AVALON — When I learned that Hollywood icon Lauren Bacall had passed away, I was on board the Catalina Express, pulling out of the harbor in Avalon with a boat full of nearly 400 vacationers and fellow day trippers. 
I had set out to prove that one could literally "take the train to Catalina," using public transportation to reach one of California's most storied and elite spots. But the sad news cast a melancholy shadow across the brilliant bay.
Bacall and her husband, Humphrey Bogart, were enchanted by the island–as were the Wrigley family before them, who developed its recreational and tourist potential in the early 20th century. The Chicago Cubs used to hold their spring training there, and a young sportscaster named Ronald Reagan followed them–only to dash across to the mainland on a day off, according to the guidebook, where he tried his luck at a Hollywood casting.
Other stars have followed in their wake to take advantage of Catalina's breathtaking views, convenient sailing berths, and myriad amusements. 
Typically, a trip to Catalina involves sailing a private yacht–or parking near the harbor in Long Beach or San Pedro, and taking the ferry across the choppy sea. 
Yet given that the Los Angeles Metro's Blue Line has several stops in downtown Long Beach, public transportation is also an option.
I started my journey at 1:14 p.m. at the Third Street Promenade in Santa Monica, taking the Big Blue Bus's rapid 10 line to downtown L.A. before the afternoon traffic hit.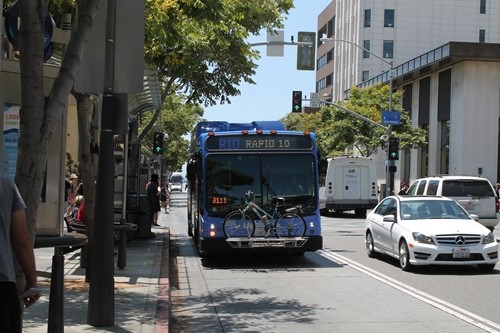 From 7th and Figueroa, I descended into the subway and–after loading up my TAP card–boarded the Blue Line. 
The journey from downtown L.A. to Long Beach is roughly one hour, and travels through South Central, Watts, and Compton before hitting the south coast.
Once in Long Beach, it's a 15 minute walk past hotels and cafés to the ferry terminal. 
This particular afternoon happened to be warmer than usual, with only a gentle breeze from the west-northwest and light waves. I had brought a sweatshirt to sit outside–but I didn't need it. 
En route, we passed the sights of Long Beach harbor–including the Queen Mary, oil tankers waiting to dock at America's second-busiest port, jet skiers and sailboats.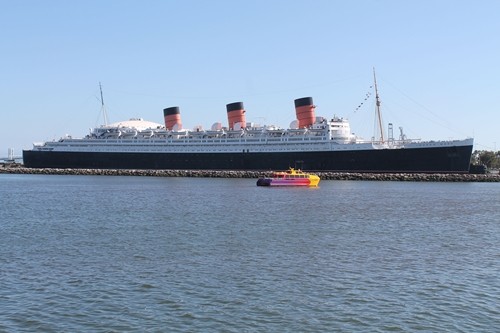 Leaving the harbor, we hit our cruise speed and hummed across the bright blue waters, the city receding slowly, the occasional sailboat or whale spout the only real interruption. 
Catalina grew closer and closer, and when we finally hit Avalon, the sight was simply breathtaking–far grander than any of the promotional photos I had seen. 
Let the Obamas have Martha's Vineyard–this is romance on a Hollywood scale. No wonder Bacall loved it.
I had left myself only a few minutes of sightseeing, from the ferry landing. Soon it was time to board again–and while the boat had been fairly empty on the journey from Long Beach, it was packed on the way back. 
I sat next to a young couple enjoying the last evening of a summer romance. He was a strikingly tall, handsome nightclub bouncer; she was a drop-dead gorgeous engineering student who had just finished an internship near Venice.
Something about the place drew them to spend their last day together on Catalina. 
The same magic that drew Bacall to the place seems to have lasted. No doubt the island will mourn her with particular intensity: she was, it is said, the last of Hollywood's "Golden Age" stars. 
Yet the majesty of Bacall's island lives on, an escape from the humdrum of L.A. life–and the glamor, too. It is just a bus, train, and boat away–and home before 9:30 p.m.