DAVIS, California — Fans of Sen. Bernie Sanders (I-VT) are torn over their loyalty to the Democratic Party and have expressed skepticism as to whether they would be willing to support Democratic presidential frontrunner Hillary Clinton over the seasoned socialist if she clinches the nomination.
"I don't know a single person who said they would vote for Hillary if she got the nomination," Antonio Alvarado, 20, a junior at University of California Davis said in an interview with the Sacramento Bee at the event. He said he believes wholeheartedly in Sanders' ability to unify the country, and juxtaposed it against Clinton's attacks on the self-described "democratic socialist" — which he reportedly said have been "even more divisive than [Donald] Trump."
A new NBC/Wall Street Journal/Marist Poll shows Sanders lagging behind Clinton by just 2 percentage points ahead of the primary next Tuesday. Clinton has 49 percent and Sanders 47.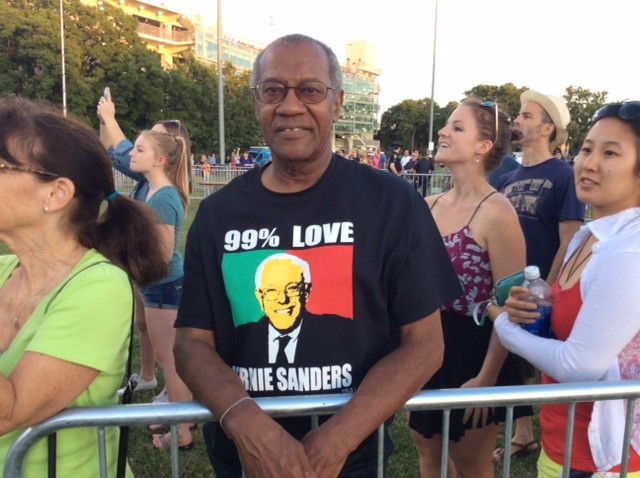 Over 9,000 Sanders supporters gathered in the football field at UC Davis, where Sanders promised, if elected president, to "pass comprehensive immigration reform and path to citizenship," legalize marijuana, pass legislation to classify drug abuse as a form of mental illness, and to instill a "tax on carbon" in order to combat climate change, which he has stated is as dangerous as terrorism.
Over the course of the past week covering the Sanders campaign throughout Northern and Southern California, Breitbart News encountered a mixed bag of Sanders supporters. Some are willing to vote for Clinton if she receives the party's nomination. Others have threatened to leave the Democratic Party altogether if she becomes the nominee. And many changed their political party affiliation to Democrat from independent just to ensure Sanders will win. (Non-partisan voters can still vote for Sanders, but they must request a special ballot.)
The Davis crowd was full of millennial-aged voters. Sanders consistently touts his campaign's ability to draw voters age 45 and under. His talking points that evening were catered toward the crowd.
"Wall Street says they can live with Hillary Clinton, they can live with Donald Trump. But they cannot live with us," he said as  the crowd roared with cheer and applause. "America today is the wealthiest country in the history of the world. But people don't know it because almost all of the new income and the new wealth is going to the people on top."
The Davis crowd was an eccentric one. Marc Chang, the owner of the "Magic Unicorn Rider," also known as the Davis Unicorn, was also present. He showed Breitbart News how his magical ride helps him get from place to place throughout the city.
At Sanders' previous rally in Palo Alto that same day, Breitbart News caught up with a Jennifer Brooks, 25, who is studying child development at San Jose State. She wore a flower head band in her hair.
She said her parents are both from Mexico, and that she's voting for Sanders because "he is for the minorities. He's just a really down-to-earth person and he's really there for the people and wants to make a difference. And just the fact that he's not a sellout, like the other candidates." She added that his free community college plan was also very appealing.
"He wants to not punish, but just reward, the people who want education for their future," she said. When asked by Breitbart News if she would feel comfortable paying even higher taxes if she winds up making six figures in the working world, she said she "would not." However, she said "I think it's only fair."
Follow Adelle Nazarian on Twitter @AdelleNaz