While hiking in Windy Lake Provincial Park in Ontario, brothers Michael and Neil Fletcher rescued a trapped bald eagle and managed to capture a selfie with the bird.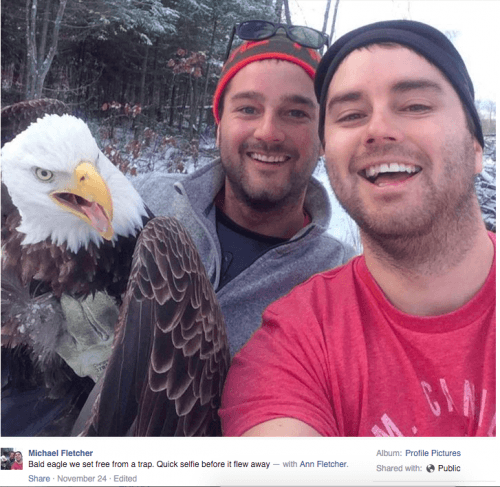 "We had just got into an open cut and my brother was, like, 'Oh, I just saw something,' " said Michael. "So we backed the truck up. He said, 'I think it was an eagle, but it's gone.' "
He continued,  "We thought maybe someone had shot something the day before and left a gut pile (that would attract a scavenger like an eagle). Then we saw some movement, walked in a bit, and the bald eagle was stuck there in a trap."
Michael and Neil found the eagle inside a trap used by fur hunters. They both said they knew they should call the Ministry of Natural Resources and Forestry but said they "felt it was more important to free the bird right away."
They told The Sudbury Star how they freed the bird:
Michael said he tugged off his hoodie and placed it over the raptor's head while they pressed on the release mechanism of the trap.

"Me and my brother just kind of held onto it, and it calmed right down," he said.

Even when they took off the hood and hoisted their feathered pal to chest-height for a photo, the bird was oddly cooperative. The expression on its face may have looked fierce, but it wasn't squawking or trying to jab them with its formidable beak or talons.

"It didn't really fuss or give any sign of aggression," Michael said. "I don't know if it knew we were helping him, or what."
Neil placed the bird on his shoulder, pushed it, and America's bird flew to safety in a nearby tree. The brothers waited around to make sure it was okay. Once they felt comfortable, they took off as well. However, neither one will ever forget the experience.
"I was surprised by the size, and that it's such a beautiful bird," stated Michael. "When you see the eyes up close, they're really amazing."
Follow Mary Chastain on Twitter @mchastain81