Madonna has certainly come a long way from being "like a virgin," but at 56, she's proving that sex symbols can remain that way at any age. The iconic pop star recently posed provocatively for the cover of December's "Art Issue" of Interview magazine, including a semi-topless shot that shows off her breasts.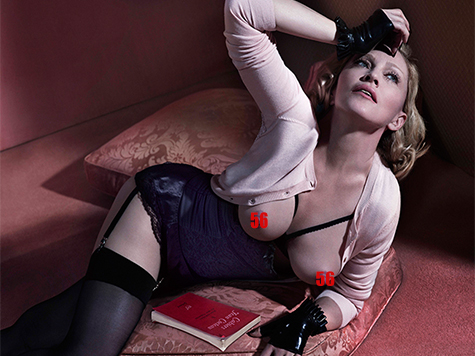 Photography by MARCUS PIGGOTT, MERT ALAS
In addition to the adventurous photo shoot for the magazine, Madonna spoke at length about her 13th studio album, due out next year, and offered her thoughts on a variety of topics including death, creativity, and the human spirit. Madonna was interviewed by magician and close friend David Blaine.
On keeping her famous body in shape, Madonna told the magazine she recently took up yoga again.
"I started doing yoga again, which I haven't done in years and years and years," she told Blaine. "I'm so used to exercising with music playing very loud, and when you do yoga, you're just listening to your breath, and I find that also incredibly… it's cathartic, for sure."
Madonna also said that her mother's death at a young age is a "driving force" for her.
"I became very obsessed with death, and the idea that you never know when death will arrive, so one has to do as much as possible all the time to get the most out life," she explained. "That would be a motivating force."
Read the rest of the interview here.