Morocco is reported to be building a razor-topped wall near Spain's North African enclave of Melilla to stop illegal migrants crossing into Europe.
Local human rights NGOs are claiming that construction work for the barrier began 20 days ago, according to the AFP news service.
Chekib el-Khayari, head of the Rif Association for Human Rights, said his association had information that "these barriers will be five metres high and will be topped with blades."
Melilla and the other Spanish North African enclave of Ceuta form the only two land borders between Africa and a European Union member state.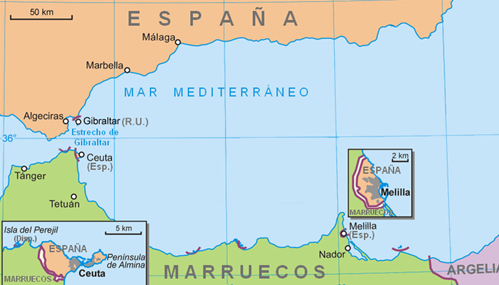 Image: Wikimedia Commons
According to AFP: "Both have seen a flood of illegal border crossings by African migrants seeking a better life in Europe. In March, 1,000 people tried to jump a Spanish built triple-layer fence separating the city from Morocco, with half of them getting through — the biggest such crossing in nearly a decade."
On May 1, Fox News reported that around 700 African migrants charged Spain's barbed-wire border fences, clashing with Spanish and Moroccan border police: "Spain said 140 of the migrants managed to enter Spanish territory despite the efforts of the border police."
Melilla and Ceuta have had repeated attacks by waves of migrants this year. During the surge on May 1, 500 arrived in the early hours, followed by 200 four hours later.
Contacted by AFP, Moroccan authorities declined to comment on reports of construction of the wall.