Tory MP Douglas Carswell has defected to UKIP in a sensational press conference in Westminster that ended moments ago. He is currently Member of Parliament for Clacton, having been first elected as MP for Harwich in 2005.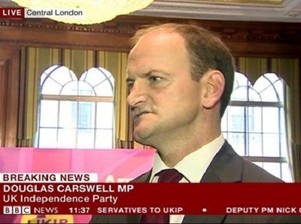 He will now resign as an MP and force a by-election, that he will contest for UKIP. If he wins this will give him a mandate as UKIPs first elected MP. Whilst defections are not uncommon in the House of Commons, they tend to come from MPs at the end of their careers and it is almost unheard of for MPs to seek their electorates approval for their decision.
When Carswell was asked if he thought he'd win he said he had no idea but was "not going to take my constituents for granted". UKIPs leader Nigel Farage described the resignation of Carswell from the House of Commons as, "noblest thing I've seen in politics in my lifetime".
Mr Carswell is a popular MP and is known as an advocate of more direct democracy and open primaries. As the end of the press conference he left for his Clacton constituency to begin campaigning for the by-election. He is believed to have a genuine chance of retaining the seat.
He explained his reason for walking away from the Conservative Party by saying the leadership were "not serious about the change this country needs… they are not serious about making government accountable to parliament and parliament accountable to the people".
A member of staff at Clacton Conservative Club, which is affiliated to the Tory Party, told Breitbart London "the town votes for Douglas Carswell rather than the Conservatives, he is really very popular in the town."
A spokesman for the Conservative Party said:"This is a regrettable and frankly counterproductive decision. As  Douglas Carswell said, the only way to get a referendum on the EU is to return a majority Conservative government. The Conservative party will contest the forthcoming by-election vigorously to make sure the people in Clacton have a strong conservative voice in this parliament and the next."
Before any by-election can take place Mr Carswell will have to be appointed as Crown Steward and Bailiff of the Manor of Northstead. This is because MPs cannot technically resign, they can only be disbarred. One of the ways is to be disbarred is by accepting a crown appointment such as this. He will replace David Miliband as Steward and Bailiff.
Then the by-election writ will need to be moved, by convention this is done by the party that held the seat. Although Carswell is technically a UKIP MP for the next couple of days Breitbart London understands that the party will let the Conservatives move the writ. The date the writ is filed affects the date of the election and so can give a competitive advantage.
Developing…