JERUSALEM – Palestinian President Mahmoud Abbas' Fatah movement published a cartoon of Israeli Prime Minister Benjamin Netanyahu as a Nazi with a swastika tattooed on his arm.
The cartoon, entitled "Knockout," features a boxer representing "Palestine" and was posted on the website of Fatah's Information and Culture Commission on Thursday, Israeli NGO Palestinian Media Watch (PMW) first reported. See below: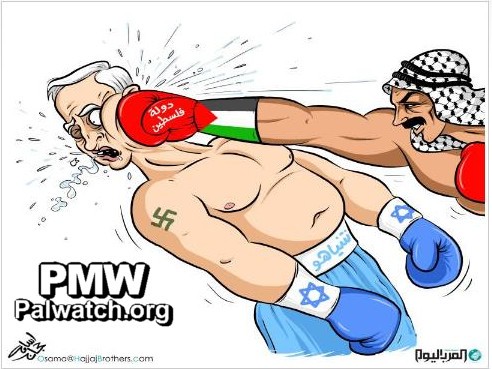 The colors of the Palestinian flag adorn the boxer's glove, on which is written in Arabic, "The State of Palestine." The boxer is delivering a knockout blow to Netanyahu, who has a swastika tattooed on his arm, Stars of David on his gloves, and the name "Netanyahu" on his belt.
A few days prior, Breitbart Jerusalem reported that the same website had posted a photoshopped picture of Israeli Defense Minister Avigdor Liberman superimposed on an image of the Islamic State terrorist known as Jihadi John. See below:

Earlier this month, Fatah posted a cartoon on its official Facebook page depicting Netanyahu as a baby killer. The prime minister's rise in popularity was illustrated by featuring him on a steep incline comprised of dead Palestinian babies.
Thursday's cartoon is not the first time Netanyahu has been featured as a Nazi. In January of last year Fatah posted a photoshopped image of the prime minister in an SS uniform. The Palestinian Authority and Fatah movement have further claimed that Israel as a whole is guilty of Nazi-like transgressions. See below: