SACRAMENTO, California — Roughly 300 demonstrators gathered outside the Leland Stanford Mansion Musuem on Tuesday to protest against Mexico's continued incarceration of U.S. Marine Sgt. Andrew Tahmooressi, who is facing trial on gun charges. Inside the building, Gov. Jerry Brown was hosting Mexican President Enrique Peña Nieto at a luncheon in his honor, which was the target of the demonstrations.
Two Republicans, State Assemblyman Tim Donnelly (San Bernadino) and State Senator Joel Anderson (R-Alpine), declined to attend the luncheon. Donnelly organized the protest outside the luncheon and was joined by activists from the Tea Party, as well as others concerned about Tahmooressi's fate. Signs carried by those present called for Tahmooressi's release, and offered to "trade Obama and Jerry Brown for our Marine."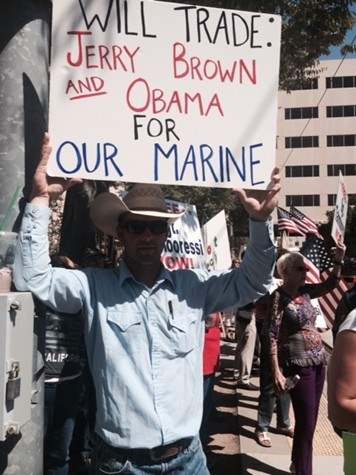 Some Republican members of the GOP caucus chose to attend the luncheon and make their protest directly to the Mexican president. One, Assembly member Melissa Melendez (Murrieta) hand-delivered a letter signed by 20 state legislators demanding Tahmooressi's release. A press statement by Melendez's office proudly highlighted the fact that she and other legislators "chose to skip the protests outside the Capitol today."
"The spirit of this visit is how we can work together and achieve common sense solutions to our problems.  A nice starting point would be to pardon and release Sgt. Tahmooressi who is being needlessly detained, contrary to his rights as an American citizen." Melendez said in the release. "I simply had a different opinion on what I felt would be most effective in achieving a speedy release of Sgt. Tahmooressi.  I could have stood outside with the pickets and the cameras but I chose instead to demand the release of our Marine in person."
Donnelly, true to form, took a more confrontational approach. "The very first thing he [President Nieto] ought to do if he wants something from us, is he needs to free our Marine…it's the very least that he could do considering that we afford courtesy to allies," he expressed. 
 
 
Jan Ziegler, who was celebrating her 68th birthday, drove from Yuba City, California to Sacramento to take part in her very first protest. She told Breitbart News that she heard about the rally two weeks ago.
 
Joel B. Pollak contributed to this report.