The King of Sweden has sent Palestine a message of support on its National Day, which celebrates their Unilateral Declaration of Independence from Israel. King Carl XVI Gustaf sent the personal message to Palestinian President Mahmoud Abbas on Saturday.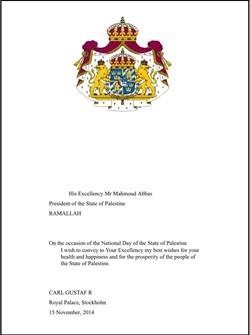 The message read: "On the occasion of the National Day of the State of Palestine I wish to convey to Your Excellency my best wishes for your health and happiness and for the prosperity of the people of the State of Palestine."
Although the Carl Gustav is now likely to receive significant criticism for his actions, the Palace have defended the move pointing out he is obliged to send a message to any state recognised by the Swedish government. He is a ceremonial monarch subject to similar restrictions as the British monarch.
A spokesman for the King said: "As the Swedish government has recognised the state of Palestine, it has also been sent on Palestine's National Day". Sweden recognised Palestine as an independent state on 30th October.
At the time of the recognition the United States of America warned Sweden the move was "premature". There has also been a vote in the British parliament to recognise Palestine but this was not binding on the government so most pro-Israeli MPs boycotted the debate.