With the 'Green Surge' confounding Westminster pundits as the United Kingdom's own radical enviro-mentalist wealth redistributing party overtakes both the Liberal Democrats and UKIP in membership, it is only reasonable some questions should be asked of where all these new members are coming from.
It isn't, presumably, the residents of Brighton and Hove flocking to the party after seeing the new utopia created in the first Green town, a socialist paradise of meat-free Mondays and where despite punitive £50,000 fines for incorrect rubbish disposal, the streets are plagued with litter. Indeed, the record there is apparently so bad Brighton MP and party leader Caroline Lucas has been avoiding mentioning who exactly she's standing for in her campaign literature.
The surge may have more to do with the increasingly impressive lengths Green evangelists will go to bring people on-side, an exercise encapsulated by the twitter hashtag #illVoteGreenifYouDo. Although more ordinarily this seems to involve talking to your friends and neighbours about evil mega-corporations, "environmental justice", whatever that is, and how jolly exciting it is that the Greens are going to be on the television now, some, it seems, have gone well beyond the tea-and-biscuit chats of ordinary bien pensant table talk.
The award for most creative way to recruit new Green members should probably go to the intrepid keepers of one eco-friendly holiday rent available from otherwise ordinary-seeming 'glamping' website Canopy&Stars. A website clearly aimed at professional young couples desperate to get away from the city for a long weekend break in the country without having to fear anything as awful as mud, or pitching a tent, most of the rents involve charming ethnic tents or former shepherd huts done out with double divans.
While most of the undeniably attractive special offers available on the site take the form of 2-4-1 deals and late booking discounts, Pego Ferreiro, an "off grid and eco organic smallholding" is offering an unusual enticement to potential guests; a free years membership for the Green party, and a copy of Owen Jones' painstakingly well researched anti-capitalist blockbuster The Establishment.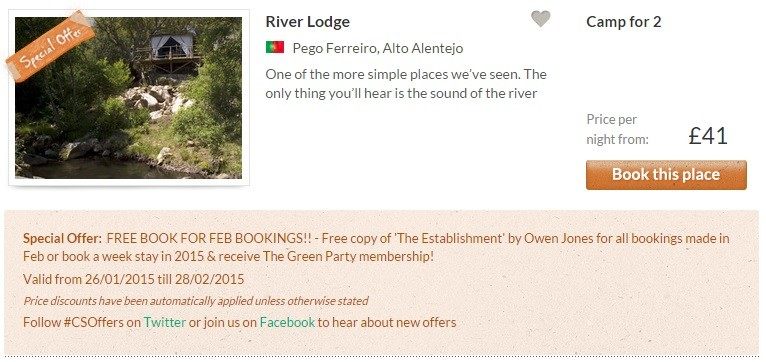 It is worth noting this deal, which you have to specifically ask not to be enrolled in is not officially endorsed by the Green party and the cost appears to be covered by the holiday-let owner. Regardless, we may be witnessing the first ever recorded instance of membership of a political party being conferred, gratis, just for the simple act of going on holiday.
As the website humorously remarks, those not rejecting the offer of a free year's membership should "bring your own sandals". Don't all rush at once.