This years host of the European Tree of the Year contest has contacted fellow MEPs and their staff to participate in the latest competition to be funded by Brussels.
Socialist Euro MP Pavel Poc contacted colleagues to urge them to vote for their favourite tree, with the winner from the 14 finalists being announced in the European Parliament on 22nd April, an email seen by Breitbart London reveals.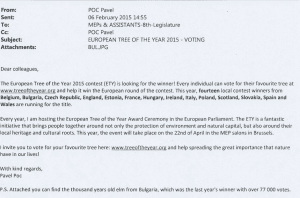 According to the website, the purpose of the European Tree of the Year is to 'highlight the significance of old trees in the natural and cultural heritage that deserves our care and protection.'
And in a move which will win approval from the left wing of politics, the contest the 'doesn't focus on beauty, size or age but rather on the tree's story and its connection to people. We are looking for trees that have become a part of the wider community.'
The competition started in the Czech Republic and the number of countries participating has increase from 5 to 14 with the organisers hoping it will continue to expand in order for "the protection of trees – bearers of genius loci," to be a "topic of international debate."
The competition is sponsored by the European Union, meaning that while many people in Britain struggle to find a property with so much as a window box and as European Migration threatens green belt, their money is being spent on a tree competition.
The tree currently winning the competition is the Great Plane of Tata in Hungary, a 232 year old Oriental Plane which has secured over 33,000 votes. Closely behind in second place is an oak tree on a football field in Estonia which dates back to 1951.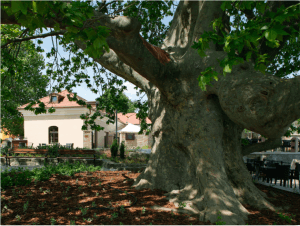 Current Front Runner for Tree of the Year: Hungarian Great Plane of Tata
The UK entries are not faring so well, with the Scottish entry, a tree where an Osprey called Lady has nested for many years, only securing 1811 votes. Meanwhile the English contestant, The Major Oak, is lagging well behind the Eastern European trees on 4594 votes despite folklore saying its hollow trunk was used as a hideout  by Robin Hood and his merry men. The world famous tree weighs an estimated 23 tonnes, its trunk circumference is 33 feet (10m) and its branches spread to over 92 feet (28m). Because of its national importance, conservation measures to the tree have been carried out continually since 1908. Today, slender steel poles prop the sprawling limbs of this forest giant, which is visited annually by  thousands of people at Nottinghamshire County Council's Sherwood Forest Country Park.
But it's doing better than the tree representing Wales, a Scots pine, the Lonely Tree of Llanfyllin which has only secured 1018 votes.
Ukip Deputy leader Paul Nuttall commented "Like the European Commission this is funded by taxpayers,  the votes takes place in secret and it's a massive waste of money. The difference is most people like trees and want more of them. We certainly can't say that about the  EU."