UKIP leader Nigel Farage has attacked the BBC for bias following an interview on Radio 4's Today programme where he was quizzed about candidates rather than  policies.
Mr Farage, who is currently on course to become an MP in May for the constituency of Thanet South, said the public service broadcaster was guilty of "clear and evident bias" when presenter Mishal Husain focused on a small number of candidates who have caused the party embarrassment in recent weeks, the Guardian reports.
Speaking to Breitbart London, Mr Farage said it was "fine to criticise UKIP for stupid or nasty things that our candidates might have said," but added,  "it is not fair if the other party leaders aren't asked the same questions."
He also pointed the finger of blame at the Tory defectors to the party for causing most of the trouble.
Tweeting after his interview, the UKIP leader said:  "So the BBC admits it doesn't think that other parties have bad eggs in their ranks. Clear and evident bias #r4today."
"We have had a problem with some Conservative defectors, nearly every one of these cases is when people have come from the Conservative Party," he told Husain. "I mean, it's interesting; last year I was here there was a UKIP town councillor who said derogatory things about gay marriage, it was a national news story, it led on some of the BBC bulletins. He had been a Conservative councillor for 22 years saying the same things."
The party was faced with scandal after South East MEP Janice Atkinson was kicked out of the party, along with her chief of staff Christine Hewitt, following undercover filming by the Sun as the staffer was filmed in what looked like a request for a fraudulent invoice. And its Scottish MEP David Coburn was widely criticised for appearing to compare SNP politician Humza Yousaf to Abu Hamza.
But at the same time, Farage and his family were attacked by hard left protestors when they were having Sunday lunch in a matter the police 'are looking into' according to party sources.
And Green Party candidate Jenny Ross wrote on twitter that Mr Farage had testicular cancer to try to be more like Hitler.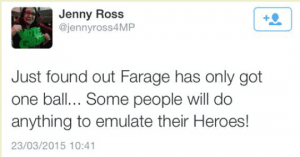 After being condemned by her own party, Ross refused to put down her shovel and added, '"No surprise Kippers don't like dark humour…".
Fellow comedian Noel Fielding is facing a police investigation after allegedly telling an audience at an event at the Royal Albert Hall, "Don't applaud Farage, stab him" during a bizarre rant at an event for the Teenage Cancer Trust.
After facing a barrage of questions about candidates, Farage told the Radio 4 presenter,  "I'm perfectly happy for you to ask me this, provided you ask the other party leaders the same things, which I know you won't do."
Research by one UKIP activist found 20 examples of Conservative candidates who had been caught up in scandal, including charges of violence and benefit fraud, 29 Labour activists, councillors or candidates including one who was sentenced to 20 months in prison for twice breaching a sexual offences prevention order and a community order and 31 from the Liberal Democrats including assault on a seven-year-old child and racially aggravated assault.
Having reached 17 per cent in the 'poll of polls' late last year, the party has seen a slight dip over the past few weeks as the fight for the keys to Number 10 takes over the headlines.
Speaking this morning, Farage said that while "2014 was remarkable… we have dipped a little bit since then."
"We won the European elections, we had two surprise defections, principled resignations and we won by-elections people didn't think we could win," he said.
"We have dipped a little bit since then. But we are now in the short campaign, Ofcom have ruled we are one of the four major parties, we have got the opportunity to get our messages across."
But despite this Ofcom ruling, there will be no opportunity for Farage to shine in a four-way leaders' debate. Instead, all seven party leaders are heading to Salford tonight for a programme which has a larger number of participants than the weekly Question Time panel leaving little opportunity for anyone to truly stand out or an in depth debate to take place.
While David Cameron and Ed Miliband slog it out, smaller parties which were a key topic of discussion earlier in the year have slipped back as the spotlight has drifted from them.