Comedian Alastair Murray, who is standing in the Kent constituency of Thanet South, has called in his lawyers after being upset by comments made by a fellow candidate.
The 'Pub Landlord' is said to be upset over comments made by front runner Nigel Farage who accused him of breaking election rules by spending too much cash on his campaign, according to the #SunNation website.
Murray is standing in his character guise for the 'Free United Kingdom Party' – whose logo has been banned from the ballot paper by the Electoral Commission for being too similar to UKIP's pound sign logo with the party acronym crossing through it.
A commission spokesman said: "We refused to register the emblem that the Free United Kingdom Party is currently using for campaigning purposes. This is clearly similar to UKIP's registered emblem and as a result we judged that there was a clear risk of voter confusion. The party may use this emblem in other contexts but it may not use it on ballot papers. The acronym FUKP will also not appear on the ballot paper."
Despite this, Murray is still using the logo in his promotional material including a 'fundraising event' just days from polling day in the centre of Margate.
In his book The Purple Revolution, the UKIP leader suggested The Pub Landlord had breached the electoral spending limit of £35,000 by taking out pricey adverts in a number of national newspapers and the London's free paper the metro.
Even if publishers did not charge Murray the going rate for the adverts, the commercial cost needs to be listed as a donation and provided to the electoral commission.
Electoral Commission rules state candidates can spend £30,700 plus 9p per-person registered voter on the long campaign– between December 19 and March 29 – for a constituency. During the 'short campaign' which started when Parliament was dissolved, candidates can spend £8,700 and 9p per- voter. To break the rules is a criminal offence.
In the book, Farage said that his campaign team were "expecting a few stunts."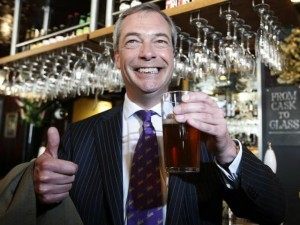 "Al Murray, the Pub Landlord, announcing that he will stand in South Thanet was one such. It was clearly promotion for his comedy tour," he added, saying "He will be blocked from standing."
The Pub Landlord has denied Farage's claims and instructed lawyers to sue. A source told SunNation that the UKIP leader was on "dodgy ground".
"It's a criminal offence to break Electoral Commission rules so he's in effect calling The Pub Landlord a criminal, which is not a wise thing to do if you don't have the facts."
They added: "The Pub Landlord has definitely NOT broken any rules."
A spokesperson for The Pub Landlord said: "This is a legal matter and not something we would comment on, but I can confirm Electoral Commission guidelines on spending have not been broken."
A UKIP insider told Breitbart London that they thought it was "quite difficult to defame a fictional character."