Tony Blair has once again denied claims he is amongst the mega-wealthy despite having a property portfolio worth millions of pounds and business contracts advising national governments around the world.
And the former PM disparaged the party and the people who put him where he is today, saying "I've done British. I suppose where I think I can make most difference is a global level", the Daily Mail reports.
The original interview in Newsweek magazine – and quoted by the Mail – led to Blair being branded "out of touch" and will surely embarrass current Labour leader Ed Miliband, who the ex-PM endorsed earlier in the week.
Mr Miliband and Labour are making every effort in this campaign to try to restore themselves to the position of the party of the working class. Mr Blair, who charges £250,000 a time for public speaking, claimed he was "absolutely not" in "the league of the super-rich" and said the money he earned pays for the "infrastructure" around him.
"I could not do what I do unless I was also able to generate income," he said.
It is not the first time Mr Blair has caused outrage: At the beginning of the year, a petition was sent to the offices of Save the Children, asking them to revoke the 'global legacy award' he had been given for his 'commitment to Africa'.
"Am I better off than most people? Yeah, I'm very lucky," he admitted before saying,  "Am I in the league of the super-rich? Absolutely not, though you will have to make up your own mind about that."
Since leaving Downing Street in 2007, Mr Blair has established a network of companies making it impossible to work out his exact earnings. He has previously said reports that he was worth £100 million as "greatly exaggerated" and in fact suggested he is worth less than £20 million.
However, he and his family are thought to be worth at least £30 million in property alone.
These holdings include a five-storey London home in Connaught Square, estimated at £5 million which they purchased in 2004 and the £800,000 mews house behind it for their daughter Kathryn, whose mortgage has now been paid off.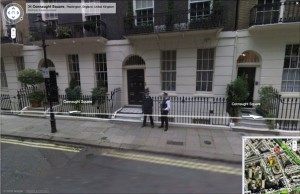 They also own a series of buy-to-let flats in the north-east as well as a Grade I listed manor house in Buckinghamshire now worth around £8 million and formerly owned by West End and film royalty Sir John Gielgud. They also bought a £1.35 four-storey Georgian property in London for their son Nicky, 28, which was paid for in cash and a £3.62 million townhouse for son Euan and his wife Suzanne.
Mr Blair has been able to amass his impressive property portfolio by taking on advisory roles to foreign governments.
"I decided a long time ago that it's whether I'm doing the right thing or the wrong thing," he said. "If it's the right thing I'm doing, then I should be doing it even if I am being attacked for it."
Stepping briefly back into British politics, Mr Blair warned party leaders "the centre ground is not leading strongly."
And he said that politics was heading in the direction of "quack remedies being peddled by the more extreme versions of left or right,"
"Practical evidence-based solutions get squeezed out in favour of policy positions that can be emotionally attractive but practically foolish or even dangerous," he said.
And he singled out the debate on immigration, something his open door policy with the European Union led to – saying there was a "real danger lurking underneath it."
"One of the attractions of what I would call a Putin model of leadership is that in an era where the political leaders [are] to be hesitant about big positions, you've got somebody who is taking big positions.
"Now, I would not agree with those positions. But the attraction of that as a model, which is why a lot of these people like [Marine] le Pen and [Nigel] Farage and people praise him, is that there appears to be certainty about the solution. It's not a solution I would agree with. But it's interesting to reflect upon that."