Purple has always been the colour of royalty and in Roman times, only the emperor was allowed to wear a Tyrian purple cape. So it may come as no surprise to some that a bright UKIP poster has been spotted at Buckingham Palace.
The distinctive purple and yellow leaflet is unlikely to belong to Her Majesty, who does not vote, the Express reports.
But members of her household and staff who work in the 775-room palace are entitled to cast their ballot.
The Queen has met Nigel Farage on a number of occasions in his role as an MEP although the UKIP leader has told friends that he thinks Prince Philip and the late Queen Mother were more likely to have supported the party.
It is not known if the person who placed the poster is a member of the Royal family.
Her Majesty is famously guarded about her political opinions although a number of comments have been revealed in recent years, mainly due to bragging politicians.
After the Scottish referendum, David Cameron boasted that she "purred down the phone to him" after the Scottish referendum. It was reported she was "horrified" about Scotland, where she and her family have holidayed since Queen Victoria bought Balmoral, being independent from the rest of the United Kingdom.
She has previously been described as a "bit of a lefty" by a biographer so might well appreciate UKIP's policy of taking those on the minimum wage out of paying income tax.
The Queen was also apparently furious when radical hate cleric Abu Hamza al-Masri was not arrested in 2012 and lobbied the government to take action.
This is not the first time in this election campaign the Queen's name has been linked with Nigel Farage's party.
A shopper on Bromley High Street took a picture of a well dressed older lady in a coat and purple scarf handing out UKIP leaflets.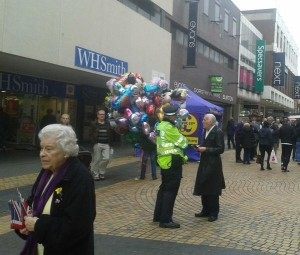 The constituency's PPC Emmet Jenner joked at the time 'It's because she's a party member'