Migrants attempting the precarious, illegal journey up through Europe are navigating using a map created by the publicly-funded British Broadcasting Corporation (BBC), as revealed in Sky News coverage from earlier today.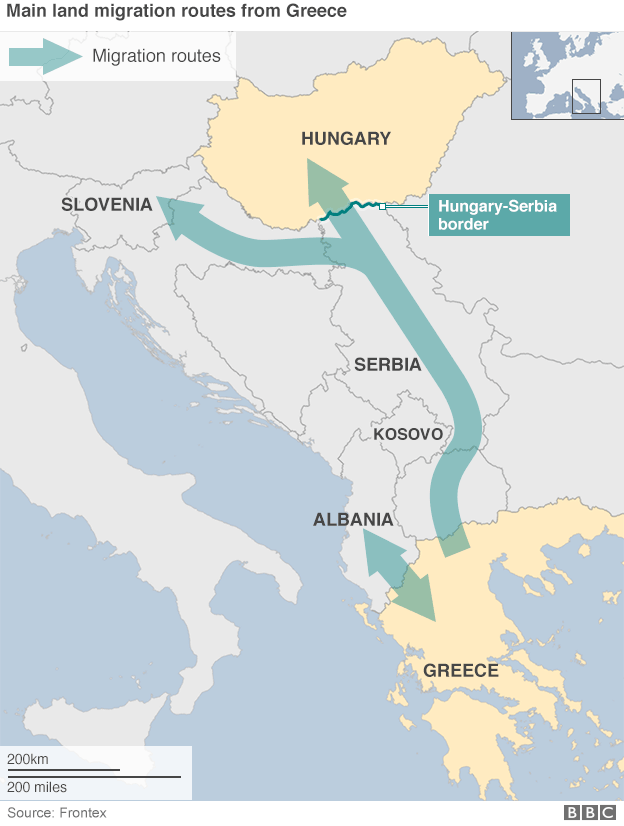 The very basic map, which is unlikely to have been intended to be used as guidance for migrants, has been printed off from the BBC's website, raising questions as to where the migrants are obtained access to the information.
Sky's Mark Stone, reporting from the Hungary border, noted: "Outside, it is the travellers wanting information. They have no idea where they are. You have a map here. This is the map they have been given. It is a news website map. This is where you are, here. Just here."
"Yes. Croatia is open? And after go to Slavonia [sic]" replies one of the men.
The map can originally be found on the BBC's website, in an article from July 7th, entitled "Hungary MPs approve border fence and anti-migrant law".
It relies on information from the European Union's Frontex agency, which is supposed to secure the EU's external borders.
The BBC noted in the July article: "In practice this means that almost all asylum seekers who reach Hungary – a landlocked country – overland will be rejected, Nick Thorpe reports from Budapest.
"He adds that most will not even get a chance to apply, because they would be stopped by the border fence, construction of which is expected to begin immediately."
And yet the establishment media seemed surprised at Hungary's decision to close its borders completely and begin construction on a border fence along its Serbia, Romania, and Croatia borders.
Meanwhile the POLITICO website, popular amongst politicians and their staffs, has gone to lengths to blame a number of people and organisations for the migrant crisis, shielding Angela Merkel from criticism over her decision to tell more migrants to come to Europe.
WATCH (No Audio):