Another media watchdog story for you today, though this time it's not the Telegraph but Sky News telling porkie pies about the ongoing immigration debate in the United Kingdom. I've spent some time going over the raw data (for you) since it was released alongside Sky News' report last week that insisted the UK is "Deeply Divided Over Letting In Refugees". As far as I can tell, there's very little division really.
The framing of the issue as a "left vs right" one is also a nonsense, as I'll show with Sky's own data. Here's what you need to know:
1. Sky leads with the claim that "47% of British people favour taking in fewer refugees":
Well okay, but the questions asked of the Sky customers polled use the words, in a split sample, "Asylum Seekers" and "Refugees".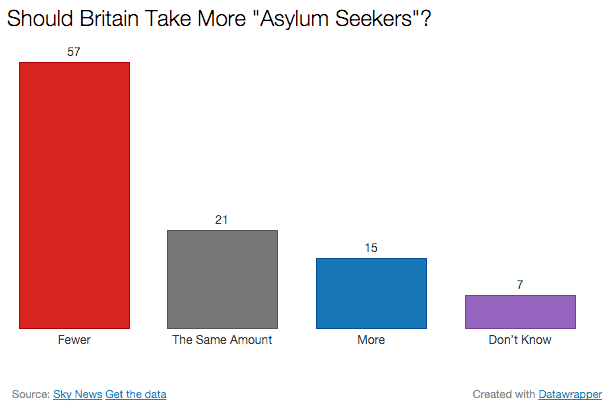 As Sky points out, when they called them asylum seekers, only 15 per cent of Britons said they wanted more. When it was "refugees", the number nearly doubled to 28 per cent. But this is still a minority.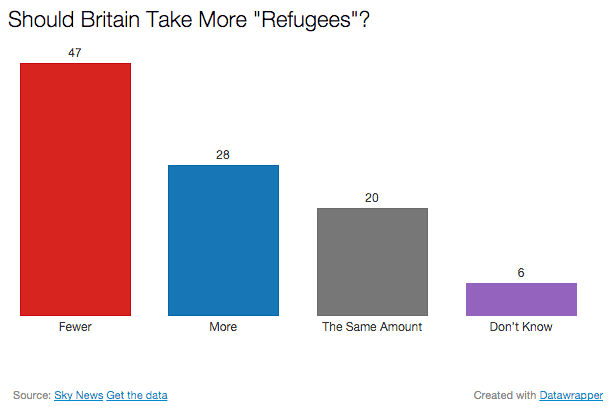 2. When talking about "migrants", people are less inclined to be supportive of more.
Just eight per cent of people said they shared social media posts supporting Britain accepting more migrants. Eighteen per cent shared posts saying "no more". And the party breakdown is fascinating too. Just 7 per cent of Tories said no more on social media, while 52 per cent of the left-wing Scottish National Party (SNP) supporters did so, beating out UKIPers on 36 per cent, and Labour supporters on 21 per cent. Interestingly. more Labourites were opposed to taking more migrants than were in favour.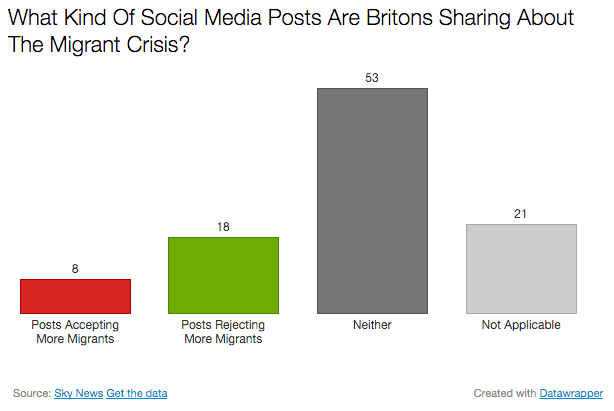 3. On the question of whether Britain has the resources to take more "refugees" the answer again is a resounding "no": 
Sixty-one per cent of those polled said we as a country can't take the added strain. Just 24 per cent disagreed. And again, SNP supporters were very high on this issue, potentially revealing a rift between the party base and its leadership, who have urged the UK government to do more. Sixty-six per cent of SNP supporters agreed that Britain couldn't take more "refugees", the same number of Conservative supporters, with 83 per cent of UKIPers in agreement, and 49 per cent of Labour supporters in agreement. Only 36 per cent of Labour supporters said we can take more.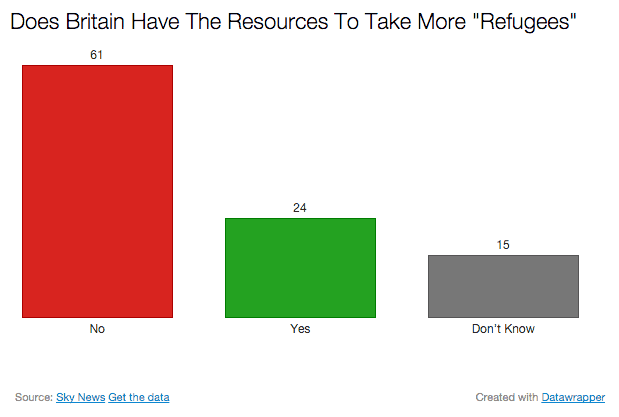 4. Sky then asked people if they thought Britain was shamed by the notion that we're accepting fewer "refugees" than any other country:
What do you think people said? "No", of course. In a big way, too. Sixty-four per cent of people disagreed with the idea that we should be ashamed. Only 23 per cent agreed. Fifty-five per cent of Labour voters felt no shame, with only 34 per cent in opposition. Only 4 per cent of UKIPers felt shame, with only 12 per cent of Tories, and 23 per cent of SNP supporters.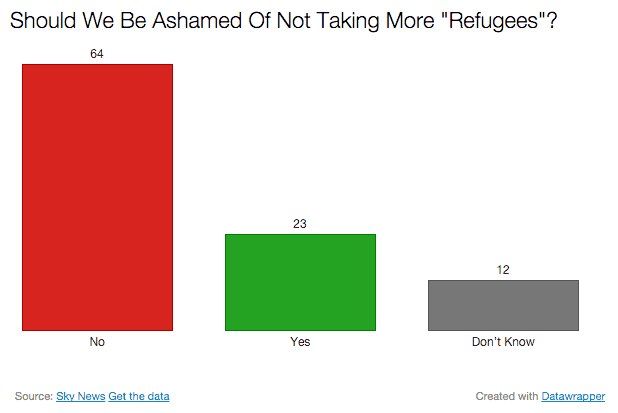 5. On whether immigration had a positive or negative impact on their local areas, only 18 per cent of people said "positive":
This is extraordinary, and truly reveals how the British public think of immigration. Sixteen per cent of Tories said they felt positively about immigration in their local area, 26 per cent for Labour, 21 per cent for Lib Dem, 4 per cent for UKIP, and 21 per cent for the SNP. Overwhelmingly, for every party and none, the majority of public opinion thought that immigration had been a bad thing for their area. That would have been my headline: not some wooly crap about "deep divisions" over "refugees".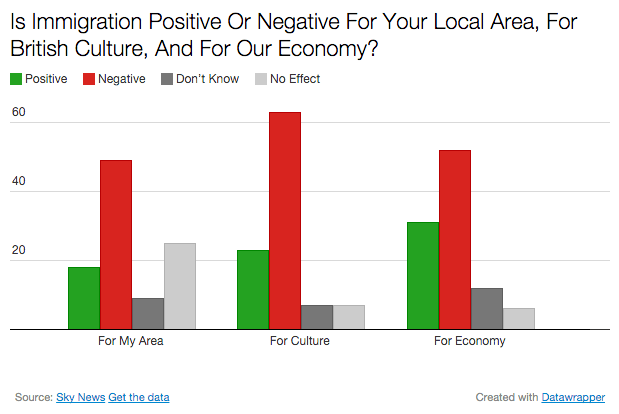 5.1. This applied for immigration's impact on the economy, too, with 52 per cent claiming a negative impact, and just 31 per cent saying "positive";
5.2. On culture, 63 per cent think immigration has had a negative impact on Britain, with just 23 per cent claiming it has been positive. Every party, including the Lib Dems, are agreed on this, apart from the SNP. Twenty eight per cent of SNP supporters think immigration has been good for culture, while 27 per cent don't. Presumably this is because the extent of Scottish culture is Irn Bru and deep fried Mars Bars (kidding, cyber-Nats… kind of).
So I'd say that rather than this showing the country is "deeply divided" on the issue of immigration and "refugees", it is pretty clear cut.
It seems to me that Sky simply didn't get the answers it wanted from its audience, and fudged the story around the numbers, plonking a migrant sob-story in the middle, followed by a video of Benedict Cumberbatch demanding that Britain do more. Ladies and Gentlemen… I give to you the establishment media.
The Sky Poll was a nationally representative sample of 1,002 Sky Customers, weighted to match the profile of the population. Respondents were interviewed online 18-20 September 2015.