An Australian five year old girl has been left disappointed by chocolate spread brand Nutella after they refused to put her name on a personalised jar – because she is called Isis.
Nutella, which has been offering personalised labels since October, has insisted that they are unable to make her a label as her name doesn't meet community standards.
Isis Taylor shares her name with a common acronym for the terrorist organisation Islamic State in Iraq and al-Sham (ISIS), which hit headlines last year when they brutally captured large swathes of territory in Iraq and Syria and declared the foundation of an Islamic Caliphate.
But her mother, Heather, has said that her daughter was named after the Egyptian goddess Isis long before the jihadists rose to prominence. She says her daughter is now being discriminated against by Nutella through no fault of her own, LBC have reported.
"We have just been refused permission to have our beautiful five-year-old daughter's name printed on a Nutella jar label … because she is named Isis," Ms Taylor wrote on Facebook.
She is trying to get the company to overturn its decision, and has even spoken directly with the Australian chief executive of Nutella's parent company, Ferrero. But the company are refusing to back down, insisting that their terms and conditions must be applied without exception.
"Like all campaigns, there needs to be consistency in the way terms and conditions are applied," a statement from the company read. "Unfortunately, this has meant there have been occasions where a label has not been approved on the basis that it could have been misinterpreted by the broader community or viewed as inappropriate."
Closer inspection of the terms and conditions reveal that labels considered "offensive" or which might cause "distress, upset or alarm" would not be approved.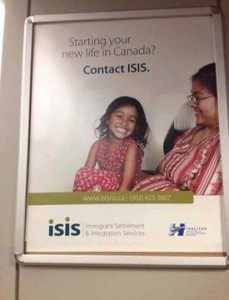 Last year a Canadian government agency was forced to change its name to avoid association with the terrorist group.  The Immigrant Settlement & Integration Services agency (ISIS) rebranded itself the Immigrant Services Association of Nova Scotia (ISANS) last November as staff were unwilling to wear their name badges, or say the agency's name at public events.
The agency, which aims to help immigrants settle into new lives in Nova Scotia were particularly concerned about how the name was viewed by clients from Syria and Iraq where ISIS jihadis are operating.
But Mrs Taylor does not agree that her daughter's name is offensive, whatever the reaction from the public. "Recently a pharmacist pointed out upon dispensing her medication, that this is not a great name to have. I of course disagree," she said.
"This negative publicity of such a beautiful name needs to stop now."
She has joined a Facebook campaign to "reclaim the name," asking that the world's media and politicians instead use the Arabic-derived abbreviation 'Daesh' ("al Dawlah al-Islameyah fi Iraq wal-Sham" – literally "Islamic State in Iraq and al-Sham").
A statement put out by the campaign laments the name being tarnished: "Whether it's Downton Abbey, that recently killed off its only pet Isis for fear of its name sparking the wrong connotations, or investor firm in London Isis which has recently renamed itself Livingbridge to "stop sharing its name with terrorists" – one of the most lasting symbols of Ancient Egyptian mythology is being tarnished by name by a group of jihadist thugs: the so-called Islamic State."
Follow Donna Rachel Edmunds on Twitter: Follow @Donna_R_E or e-mail to: dedmunds@breitbart.com