New Zealanders have chosen a silver fern on a black-and-blue background as a preferred option if the South Pacific nation decides to dump Britain's Union Jack from its national banner, officials said Friday.
The design beat four other contenders in a nation-wide referendum that offered a multitude of options (pictured above), according to preliminary results released by the New Zealand Electoral Commission. The design option chosen is pictured below right.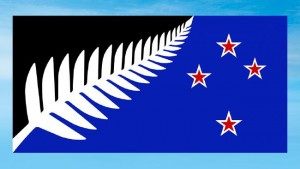 The current flag features Britain's Union Jack in the corner and four red stars in a Southern Cross formation, indicating New Zealand's location in the South Pacific.
Those seeking change say the flag is too closely tied to New Zealand's history as a British colony and looks far too much like Australia's flag.
Simply titled "Silver Fern (Black, White and Blue)", the design will go head-to-head with the existing flag in a second referendum in March next year.
"While this is a preliminary result, New Zealanders can now turn their attention to deciding whether to keep the current flag, or replace it," Deputy Prime Minister Bill English said.
Not everyone in New Zealand is pushing for change, however. Reuters reports there are Kiwis who are happy with what they now have. They say wars have been fought and New Zealanders have died under the current flag.
"I think it's an absolute waste of tax-payers money and I can't see any benefit to it," said Wellington resident Sue Parrott. "I have no problem with the current flag, it's part of our heritage."
Others took to Twitter to express their feelings.
my face after seeing which flag nz chose. #nzflag pic.twitter.com/AxdT0232Z3

— pricilla (@mediohcre) December 11, 2015
If the Silver Fern wins the popular vote, government buildings will begin to fly the new flag from next September, but there will be no requirement for ordinary New Zealanders to use the replacement.
It cost the New Zealand government $NZ 26 million to run the first and second flag referendums.
Follow Simon Kent on Twitter:

Follow @SunSimonKent

or e-mail to: skent@breitbart.com