Britain ranks among the least religious nations in the world, with just one in five Brits saying that religion is important in their lives. In Europe, only the French have a lower religious affiliation.
The findings come in a Pew Research Centre report, which asked people from 40 countries across the world how important religion was to them in their day to day lives. The UK ranked 34th, with only Russia, South Korea, Australia, France, Japan and China behind.
The findings suggest that Britain is increasingly a secular country, as adherence to the Christian faith continues to plummet. 40 percent of the population classified themselves as Anglicans in 1983, by 2013 that figure had more than halved.
An earlier report released by Pew in April last year suggested that Christians will be a minority group in the UK within 35 years, dropping to 45.5 percent by 2050. However, a 2014 British Social Attitudes survey found that non-adherence had already relegated Christianity to a minority belief, with just 41.7 percent of those surveyed identifying as Christians, against 50.6 percent of the population saying that they have no religion.
And a survey by WIN/Gallup International also conducted in April, which questioned people in 65 countries on how religious they were, found that in the UK just one in three said they were religious, against 53 percent who said they were not. Just 13 percent, however, were avowed atheists.
The more recent Pew report also found that, in general, when looking at global attitudes there was a strong correlation between income level and religious adherence. But the United States bucks this trend – it was the wealthiest country on the list of 40, yet 53 percent of Americans surveyed said that religion was very important in their lives.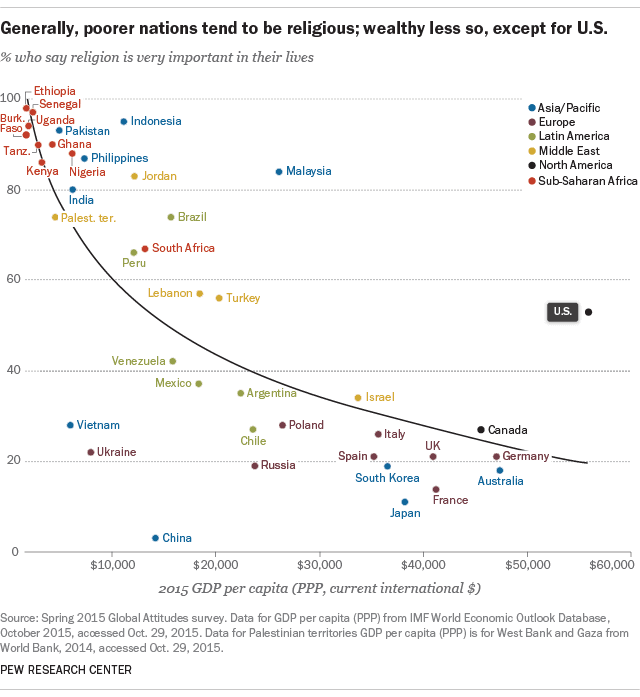 However, Conrad Hackett, a demographer at Pew warned against assuming that religious adherence will fade away as countries grow wealthier, as is often assumed by secularists. While some countries have followed that pattern, he said, in others "there is no evidence that people are shedding their religious identity, even as their societies become wealthier".
"In China, for example, people are more and more claiming some religious identity, and we have no clear evidence that as these countries develop, they will follow the patterns we see in Western Europe."
Meanwhile, in a separate Pew report on global attitudes to freedom and democratic values, a third of Brits disagreed with the statement "it's very important that people can practice religion freely in our country".
Astonishingly, nearly a quarter disagreed that "honest elections held regularly with a choice of at least two parties" were important in Britain. However, 92 percent thought it was important that women should have the same rights as men.
Follow Donna Rachel Edmunds on Twitter:

Follow @Donna_R_E

or e-mail to: dedmunds@breitbart.com