A foreign-backed, LGBT pro illegal immigrant group rallied in London yesterday, drawing dozens of protesters to shut down Peckham High Street while chanting: "When they raid our communities, we say no!" in reference to British police taking action against illegal immigrants in the UK.
The group, called 'Movement for Justice' (MFJ) claims to have its origins in 1995, being set up in Camden, north London, to "tackle racism in institutional and established forms". The group has previously been infiltrated by police, and is believed to have allegiances to "Marxist-Trotskyist" revolutionaries.
But Breitbart London can also reveal that the group is closely linked to the U.S.-based organisation 'United for Equality and Affirmative Action' (UEAA) which is a tax-exempt group "founded to direct the efforts of the 41 black, Latino, Asian, Arab and white students".
The group uses the slogan "by any means necessary" – believed to be a statement of intent to use violence by the radical, American Muslim activist Malcolm X – otherwise known as el-Hajj Malik el-Shabazz.
The group shut down Peckham High Street in South London on Saturday, where MFJ joined with the Lesbians and Gays Support the Migrants (LGSM) to whack a pinata in the shape of a police van belonging to the immigration control unit. They claimed ahead of the march: "Our message will one of be building a united, bold, independent, immigrant-rights movement in which we can each be who we are."
The group also campaigns against charter flights operated by the British government, deporting people who fail in their asylum applications, back to their home countries.
Bizarrely, the MFJ website looks like it is concern with UK issues on its homepage, but its 'Environment' page appears to be copied and pasted from that of a U.S. group, stating: "Speak the Plain Truth about Climate Change to the People of America and the World. No More Drilling in the Gulf of Mexico! Stop the North American KXL Pipeline!"
The group links to BAMN (By Any Means Necessary) – The Coalition to Defend Affirmative Action, Integration, and Immigrant Rights and Fight for Equality By Any Means Necessary (BAMN). The group claims to be "building the movement to end… second-class treatment of black people and other minorities and immigrants, documented and undocumented."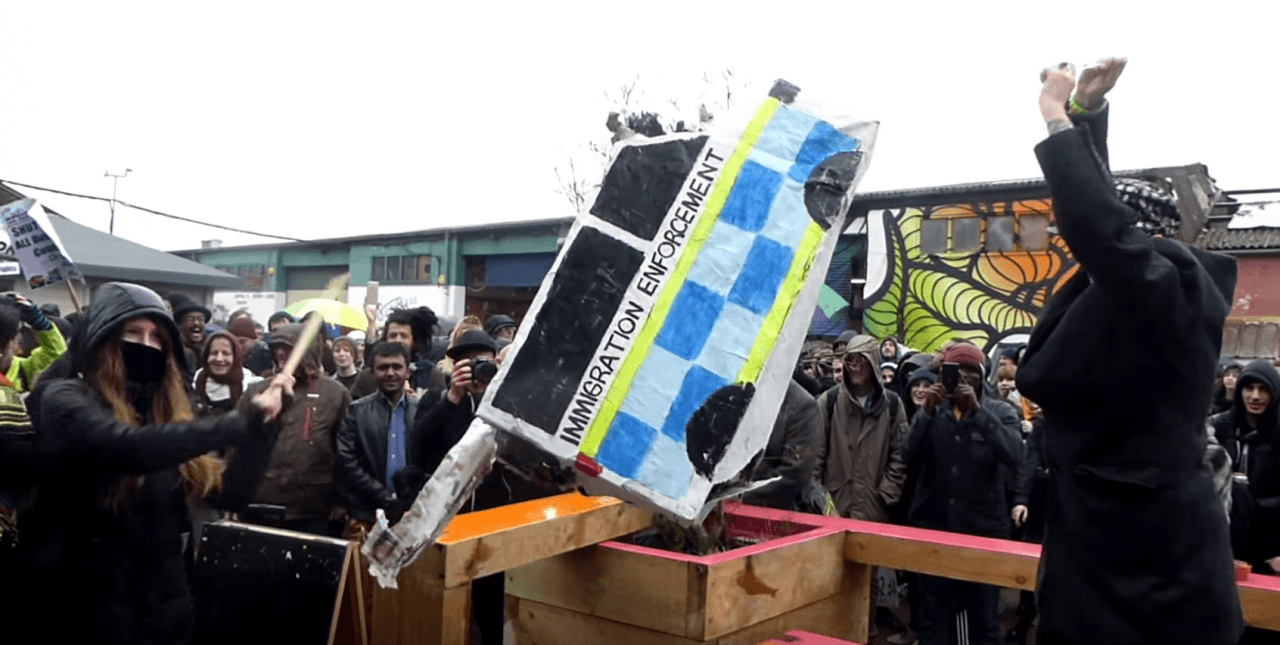 Speakers at the event claimed: "We are going to show as a community that whenever the immigration vans show up that is it everybody's job to come out on the streets to send a message… because we can stop immigration raids".
Others encouraged "taking actions of resistance" including throwing tomatoes at police attempting to enforce the law.
One man, who ended up breaking the pinata before falling on it, got to his feet and shouted, "Fuck the system!"
The student part of the march held up "No to Islamophobia" and "Muslim Lives Matter" banners, even though the march was not officially about Islam, Islamophobia, or religion, but rather – about Nigerian and Ghanian illegal immigrants.
WATCH: