Austria has extended its anti-migration advertising campaign to Pakistan, as critics note similarities between the posters and those of the right wing Freedom party.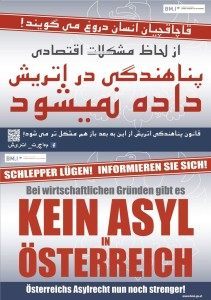 Austrian Interior Minister Johanna Mikl-Leitner has announced a new stage in the public relations campaign the central European country launched in Afghanistan last month. The poster, TV and internet campaign is targeted at would-be migrants.
The posters lay out to these individuals that Austria is closed to them, and that they will not be showered with the same gratitude and generosity that migrants were last year when they were greeted at train stations by 'Refugees Welcome' helpers handing them food and teddy bears.
Mikl-Leitner told a meeting of the Human Rights Committee on Wednesday that the government would be looking to extend the "info-blitz" to North African countries and to Pakistan. She told the committee that she viewed the campaign as an "act of fairness", both to Austrians who have seen their country overwhelmed with migrants and to any economic migrants themselves who may have radically different ideas of what Austria is actually like.
Many migrants are told by people smugglers that western Europe in general is a sort of paradise on Earth and that not only will they receive benefits of housing, cash and jobs but that they would be the subject of the desires of western European women.
The opposition Green Party drew comparisons to the posters the right wing Freedom Party (FPO) has recently starting putting up across the country. The Greens claim that the choice of the red colour bears a striking resemblance to the FPO posters which say "No Way Will You Make Austria Your Home".
The FPO posters in turn are actually inspired by the Identitarian youth movement, who have unfurled banners and created t-shirts with an almost exact same design. The "No Way Will you Make Europe your Home" banners were created for Identitarian protests along the Austrian border last year.
The Interior Ministry fired back at the allegations that they had simply copied the FPO and Identitarians saying the colour red is a signal colour like that used on American "Stop" signs, and is also one of the two national colours of Austria. They also stated that it was in any case very unlikely anyone in Afghanistan or Pakistan would have any idea who the FPO were.
As Breitbart reported previously the campaign will involve posters, TV spots and internet ads in English, German, Arabic, Pashtun and Urdu in Pakistan. The campaign is noted for it's efficiency, costing only around 10,000 euros which is less than the cost to house and feed one migrant in Austria while their asylum claims are being processed.