Two weeks after the sectarian murder of Asad Shah, a Facebook page was set up in praise of his self-proclaimed killer, 32-year-old taxi driver Tanveer Ahmed.
Created as a "public figure" page, meaning that people can declare themselves a fan, it garnered more than 700 'likes' from Facebook users before the hate-filled account was closed down.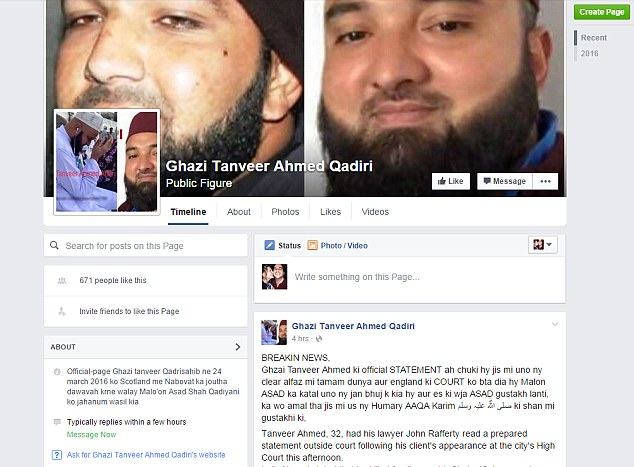 The page refers to Ahmed as "Ghazi", a title used for Muslim champions and warriors and the Daily Mail reports:
"Photos of Mr Shah covered with a red cross have received dozens of 'likes'. Meanwhile, images of the man who claims to have killed him are followed by love heart emojis.

"One image shows Ahmed next to a photograph of executed terrorist Mumtaz Qadri. The former bodyguard was hanged after murdering a leading politician who had criticised Pakistan's blasphemy laws. Someone has left a comment under the image which reads: 'I Love Mumtaz Qadri and Ghazi Tanveer Ahmed Qadiri'".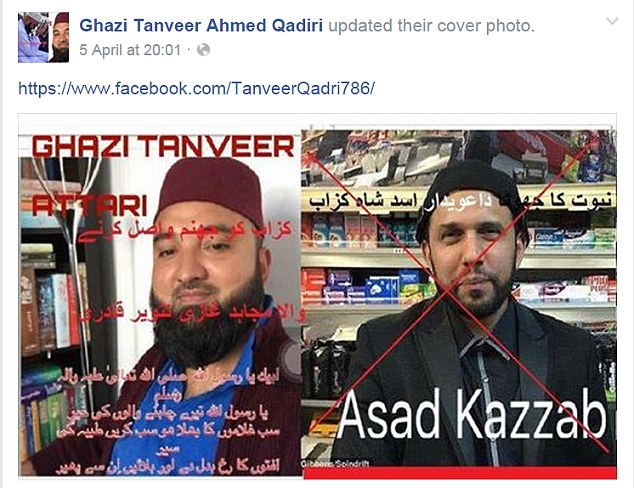 Breitbart London last month reported how immediately after the murder of the peaceful Ahmadi shopkeeper, whose family has been advised to go into hiding, a sectarian Muslim group on Facebook posted "congratulations to all Muslims". The group had a history of animus against Mr Shah for his peaceful views, posting clips of Mr Shah's peaceful preaching onto the video-hosting site DailyMotion.
The Muslim Council of Britain (MCB) are very vocal in opposing "Islamophobic attacks", among which they also include online criticism of Islam, last summer stating Muslims in Britain are "now in a very serious situation and have been for the past year."
Breitbart London recently revealed that the organisation, however, did not consider the murder of Mr Shah an Islamophobic attack. The MCB's statement on the killing was that it "unequivocally condemns" attacks on "other religions" before criticising "pressure" being mounted to describe the Ahmadi community as Muslim. "Muslims should not be forced to class Ahmadis as Muslims if they do not wish to do so," the statement read.
The motto of the Ahmadiyya community is "Love for All, Hatred for None" in its work "to promote the true and peaceful teachings of Islam." The sect, whose members are violently persecuted in the Islamic world, say the motto "reflects the community's long held views on the rejection of violence and terrorism, the separation of mosque and state and the promotion of Human Rights including complete freedom of religion for all."