MIGRANT CRISIS LIVE WIRE – You can follow all the latest updates below.
This page is edited by Breitbart London's Raheem Kassam, Chris Tomlinson, Oliver Lane and Donna Rachel Edmunds. Newest updates will appear at the top of the page.
*      *      *      *     *
18/05/2016

–

BERLIN, Germany 

– Berlin Diversity Fair Sex Assaults Rises to Nine

Police in Berlin are now saying the number of women who were sexually assaulted at the "Carnival of Cultures" diversity fair in Berlin has jumped from two to eight victims.

According to the initial reports a gang of at least ten men of Turkish decent surrounded the two initial victims, molested them and stole one of their phones. Police now say that the same gang molested at least eight women in total and are looking for suspects in the case.

At lest four suspects have been questioned and released but authorities say they are looking for more men believed to have participated in the attacks Suddeutsche Zeitung reported Tuesday. Another victim has reported a sexual assault to police Wednesday Spiegel reports.

Police have also updated the suspected origins of the attackers who were originally thought to be of Turkish decent saying they are now looking for men who come from Tunisia, Morocco, Libya and Algeria.

Read the original report at Breitbart London. 
---
17/05/2016

–

LESBOS, Greece 

– Migrants Throw Rocks at Police

Migrants on the Greek island of Lesbos threw rocks at police to protest not being allowed to continue their journey to Western Europe. The migrants are angry over long wait times of asylum processing and fear being sent to Turkey under the EU-turkey agreement.

They are not allowed to leave the island until their asylum has been processed 7sur7 reports.
---
17/05/2016

–

KALMAR, Sweden 

– Fine for molesting girls

A 20 year old asylum seeker who entered a school yard and molested two girls, aged 13 and 14, has been fined 4000 Swedish Krona — about £330 — for his crime.

The man, a so called "paperless refugee" who was refused asylum in Sweden but stayed anyway, approached the young girls last year and started asking them about their sex lives, and whether they had boyfriends.

When they told the migrant "no", he started to touch, kiss, and paw at their breasts. One of the girls said the event made her "panic". Court documents showed his parole officer believed there was no risk of re-offending, reports FriaTider.
---
17/05/2016

–

STOCKHOLM, Sweden 

– Burqa-clad thieves strike

Islamic veil wearing robbers struck a mobile phone shop in a Stockholm suburb last week, and threatened staff with a "pistol like object". Employees at the shop were forced to open the company safe by the men who were described as wearing "full length" veils, according to the police report.
---
15/05/2016

–

VIENNA, Austria 

– Nurse assaulted

A 34-year-old nurse was assaulted as she stopped her car at traffic lights on her way home from work, when three "dark skinned men" burst into her car. With one of them sitting behind her and grabbing her by the hair, the others set on the woman, which she decribed as having "hands and tongues everywhere".

The nurse said "I will never feel safe again", remarking that "no passers-by helped me" and it took police 20 minutes to arrive, reports Heute.
---
15/05/2016

–

VIENNA, Austria 

– Nurse assaulted

A 34-year-old nurse was assaulted as she stopped her car at traffic lights on her way home from work, when three "dark skinned men" burst into her car. With one of them sitting behind her and grabbing her by the hair, the others set on the woman, which she decribed as having "hands and tongues everywhere".

The nurse said "I will never feel safe again", remarking that "no passers-by helped me" and it took police 20 minutes to arrive, reports Heute.
---
15/05/2016

–

BONN, Germany 

– 17 Year Old Murdered

A 17-year-old in Germany has been brutally murdered, with the police admitting the main suspects have "brown skin type" and black hair as they desperately search for witnesses.

The youngster 'Niklas P' was beaten to death in Bonn, being knocked to the ground and kicked repeatedly. His girlfriend was also attacked as she tried to go to his aid. Several days later, the police began distributing leaflets in Turkish and Arabic in an attempt to find witnesses and the perpetrators. There is a €3,000 Euro reward for information leading to their capture.

Anti mass migration groups planned a march for the weekend after rumours the killers were recently arrived migrants.

Read more in Die Welt.
---
13/05/2016

–

STUTTGART, Germany 

– Muslim elected as parliament speaker for first time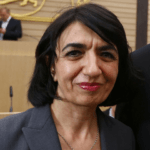 Muhterem Aras, a Green Party politician, is originally from Turkey. She took the post in Baden-Württemberg from a member of the anti-immigration AfD party on Wednesday.
"We wrote history today", she proclaimed after her victory, the Independent reports.
---
13/05/2016

–

BAVARIA, Germany 

– Migrants Smuggled "Like Cattle"

Police in Bavaria say that migrants were smuggled into the country via commercial trucks " like cattle." Four men are in court for smuggling Iraqi and Syrian nationals and are said to have organized at least 20 such smuggling trips. The four men could face lengthy prison terms if convicted, reports Spiegel Online.
---
13/05/2016

–

VIENNA, Austria 

– Migrant Attempts to Rape Cyclist

Yet another attack in Vienna's famous Prater park has involved a migrant, who attempted to rape a 48-year old woman who was riding her bike. The 21-year-old migrant from Algeria was fought off by the woman and fled after a passer-by attempted to intervene.

Police found the migrant near the crime scene and arrested him Kronen Zeitung reports.
---
13/05/2016

–

Germany 

– Private Security Booming Due to Migrant Crisis

The migrant crisis has led to a boom for private security companies who can't fill vacancies fast enough to guard migrant homes. Around 235,000 people in Germany now work in the sector and there are around 15,000 vacancies. The industry has reported a revenue of seven billion euros in the past year reports N-TV.

The haste to fill positions has led to some questionable recruiting decisions in Germany, as Breitbart London has reported. Many of the new guards are recently arrived migrants themselves with no qualifications and who can barely speak German. Christian refugees have fared particularly badly under their Muslim guards, and there have been reports of bullying.
---
13/05/2016

–

SICILY, Italy 

– Italian Police Arrest Migrant Sex Traffickers

Police in the Sicilian town of Catania arrested 13 Somalian migrants accused of trafficking migrants and holding them for ransom while making them work as sex workers. The Somali's held the migrants against their will in rented apartments and forced family members abroad to pay for their release Spiegel Online reports.
---
13/05/2016

–

MUNICH, Germany 

– Knife Killer Released from Psychiatric Care

The man who killed a 56-year-old in Munich this week is said to have just been released from a psychiatric hospital before he struck. Police said he spent the day at the hospital after his grandparents had urged him to seek help. The 27-year-old yelled "allahu ackbar" as he killed his victim and injured several others, as reported by Breitbart London.
---
12/05/2016

–

Germany 

– No idea how much is being spent on migrants

According to reports around two thirds of German municipal governments have no idea how much they spend on migrants though the total is estimated in the billions of euros. Many towns have long term contracts and have not received any migrants while other give migrants up to 1,500 euro a week.

One German financial expert representing municipalities admitted, "We currently have no overview of the costs actually incurred within the local communities," Zeit reports.
---
12/05/2016

–

VASTERAS, Sweden 

– Police caught self-censoring reports

A Swedish woman was surprised to discover that after she was molested by a man in the town of Vesteras the police had closed the investigation as unsolved, and had deleted her ethnic description of the attacker from their files.

The case was only re-opened after she took per story to Swedish radio. Apologising for the action, police commissioner Johan Stenvi said the deletion shouldn't have taken place as "we want to have as much information as possible about a suspicious person".
---
11/05/2016

–

BRUSSELS, Belgium 

– Islamist Beheader walks free

An 25-year-old Islamist terrorist identified as 'Iliass K' who has admitted to beheading a "heretic" while in Syria has walked free in Brussels after a judge ruled an immediate detention was not necessary.

The convicted terrorist has been sentenced to five and a half years behind bars, with half of that time suspended. Yet an appeal against the sentence could see him at large on the streets of Belgium for months before a final verdict is reached, reports Kronen Zeitung.
---
10/05/2016

–

VIENNA, Austria 

– Asylum Seekers Cost Vienna 290 million Euros

Asylum seekers in Vienna are expected to cost 290 million euro this year, a revised number from January where it was predicted to be 235 million. In January of last year Vienna had only 7940 migrants to pay for but the city government expects by December of this year the number will increase to over 36,000 reports Kronen Zeitung.
---
09/05/2016

–

BRATISLAVA, Slovakia 

– Migrant shot by border guards

Slovak customs officers injured a Syrian woman on Monday when they shot at a car carrying migrants from Hungary into Slovakia, authorities said.
Police in Europe have sometimes used water cannon and tear gas to prevent migrants from crossing borders but this may be the first reported incident inside the continent's passport-free Schengen zone where migrants have been shot at.

The officers stopped four passenger cars entering Slovakia from Hungary in the early hours of Monday, the Financial Administration that runs the customs service said in a press release. Three cars complied with an order to stop but the fourth tried to escape and endangered three officers, it said.

"The officers fired warning shots and when the car did not stop they fired at the car, injuring one person," it said, without further details.

A hospital in Dunajska Streda, southern Slovakia, said the injured person was a Syrian woman aged about 26 and that she was in a stable condition after undergoing surgery to remove a bullet from her back.

The hospital said it had also treated two migrants suffering from dehydration. The cars and the passengers were handed over to the border police, the Financial Administration said. Reuters
---
08/05/2016

–

NOORD-BRABANT, Netherlands 

– Two stabbed in youth brawl

Two under-age migrants were stabbed and taken to hospital after a brawl at an asylum centre in the Netherlands on Thursday night. The fight took place at a asylum centre for migrant youth, and 12 young men were involved, as they attacked each other with knives and sticks. Two have been arrested, reports the Netherlands Times.
---
07/05/2016

–

YAMBOL, Bulgaria 

– 17 Illegals detained

17 so-called "irregular" Afghan migrants have been detained in an abandoned building. The men, women and children were arrested and sent to a processing facility. They contribute to more than 1,000 migrants arrested in the country so far this year, reports Novinite.
---
07/05/2016

–

AMSTERDAM, Netherlands 

– 7,300 claim remigration benefit

Some 7,300 migrants have claimed a special so-called "re-immigration" benefit to help them return to their home nations. Receiving a monthly cash payment, the former migrants who decided life in Europe wasn't necessarily for them has cost the Dutch taxpayer some €34 million this year.

According to Dutch website NU.nl, those who have taken up the scheme have to be over the age of 55, and the majority are Turkish citizens, although it had been applied to individuals from 79 different countries worldwide.
---
07/05/2016

–

BRENNER PASS, Italy-Austria 

– Protests turns violent

Clashes broke out on Saturday between Italian police and demonstrators protesting plans to restrict access through the Alpine Brenner Pass at the Italian-Austrian border to control the movement of migrants. Some 400-500 demonstrators had gathered at the Brenner railway station on Saturday afternoon for a planned protest march to the border.

The clashes broke out in front of the station right at the start of the demonstration march and spilled onto the tracks. The police fired tear gas to disperse the crowds and to get the demonstrators to move away from the station. Smoke covered the tracks and platforms as officers in riot gear advanced through the station and the demonstrators fled to a nearby highway.

According to local media reports a police officer was injured during the clashes and dozens of demonstrators were arrested by the police. Reuters

Read more at Breitbart London
---
06/05/2016

–

Europa 

– 185,000 arrive by sea

Roughly 184,887 migrants have made it to Europe by sea this year so far, according to latest figures from the International Organisation for Migration, reports Bulgarian news agency Novinite. The figure is a significant increase on roughly 48,000 in the same time period in 2015, suggesting this year will be yet another record year for mass migration to the continent.
---
04/05/2016

–

TIRANA, Albania 

– Nine Muslims sentenced for recruiting

An Albanian court has sentenced nine Muslims to jail terms ranging from seven to 18 years for inciting terror, recruiting and sending more than 70 men to join rebel groups in Syria.

The Tirana court on Wednesday said that the men, including three preachers, were convicted of recruiting, training and inciting hatred, mainly in the capital, Tirana, from two mosques that were not recognized by the country's Muslim community.

About two-thirds of Albania's 3.2 million residents are Muslims. Mainstream religious leaders have asked their believers not to join rebel groups in Syria. Still, scores of Albanians are believed to have joined Islamic extremist groups in Syria and Iraq. AP
---
03/05/2016

–

BERN, Switzerland 

– Barbed wire for Switzerland's borders?

The Swiss People's Party (SVP) has called for a barbed wire fence to be laid out on their borders in response to the migrant crisis. The party which is anti mass migration and Eurosceptic said there was a "refugee invasion" at their border with Austria, and that now the Balkan route had been closed more migrants were coming up Italy from Africa and into Switzerland.

A party spokesman said there were more asylum applications than the country could cope with, yet only 12 per cent came from those in genuine need, reports Kronen Zeitung.
---
03/05/2016

–

STOCKHOLM, Sweden 

– 'I wish more foreign born people lived here'

Swedish newspaper AftonBladet has laid bare the continued desire of many Swedes to see mass migration continue at a pace. Examining the national make-up of different Stockholm neighbourhoods the paper found in some areas nearly half of the population were born outside of Europe, whereas in the central 'old town' district where many of the properties can be more than 500 years old, the proportion was just 2.7 per cent.

This was a matter of concern for some residents. Local Sara Fischer told the paper although she liked the friendly atmosphere and the fact that the area mainly attracted "writers and artists" as residents, she wanted to see more non-Swedes as neighbours. She said: "it's great to live here, to recognize all the otehr parents at school. You get quality of life living here, I am grateful and fortunate. But I wish that more foreign-born people lived here".
---
03/05/2016

–

CALABRIA, Italy

 – Mayor Replaces Dwindling Town Population with Migrants

Mayor Domenico Lucano of the southern Italian town of Riace has welcomed migrants into the town in an effort to stop the shrinking population. The Italian government has paid for the migrants to open businesses and around 300 migrants have settled there from 20 different countries.

Fortune magazine has rated the mayor the 40 most powerful man in the world because of the project, Kurier reports.
---
03/05/2016

–

Denmark

 – Migrants cling to Trucks to Get to Sweden

Migrants have been caught clinging to the bottom of trucks in order to sneak on ferries from Denmark to Sweden. After taking in 160,000 migrants last year Sweden introduced ID checks which the migrants were trying to avoid.

HH Ferries has sent a letter to all truckers to check their cargo in case migrants are stowed away, TheLocal reports.
---
ARCHIVE – You can read all the previous updates here.
---