Jack Schickler is listed by the pro-European Union 'InFacts' website as a "journalist". But Mr. Schickler's background reveals him to be a recent European Commission employee, in the UK "only until the referendum". So why would we trust anything he says?
The InFacts website was launched in January 2016 after being previewed in Politico.eu, bringing together "big names" in pro-EU reporting such as the Guardian's Alan Rusbridger, the Observer's Will Hutton, and the Washington Post's Anne Applebaum.
It employs three "journalists" – one of whom has worked for the pro-mass migration lobby-funded Full Fact, another who has worked for Al Jazeera, and a third – Jack Schickler – whose biography on the site says he "worked as a policy advisor at HM Treasury and the UK Representation to the EU, and as a speechwriter to Neelie Kroes at the European Commission".
At least he's honest and upfront about some of his affiliations to the Commission.
But it does seem odd therefore, for Mr. Schickler to be hurling the word "propagandist" at UK Independence Party (UKIP) leader Nigel Farage.
On April 8th he wrote: "Contacted for comment, Nigel Farage reissued the response he has given us before, calling InFacts a "propaganda group". We invite readers to decide who is the propagandist."
Mr. Farage denies making such a comment, but he wouldn't have been wrong to.
Mr. Schickler's Facebook page says he started working at InFacts on February 1st. Before that, reports his pals at Politico.eu, he worked for Britain's EU Commissioner Jonathan Hill as a "communications adviser".
Before that, he was with Neelie Kroes, once "European Commissioner for Digital Agenda".
And when it comes to "digital agendas", none is more clear than Mr. Schickler's. He told me, when questioned, that he is "not working for or paid by the Commission". He added: "I haven't decided what I'll do next."
But his Facebook page again tells a different story.
When quizzed by his friends about his move to London to work for InFacts, he replied: "only until the referendum!"
This isn't him saying he's only working for InFacts until the referendum. That would be self evident, as InFacts exists only for the referendum.
He is indeed saying that he's only in London for the referendum.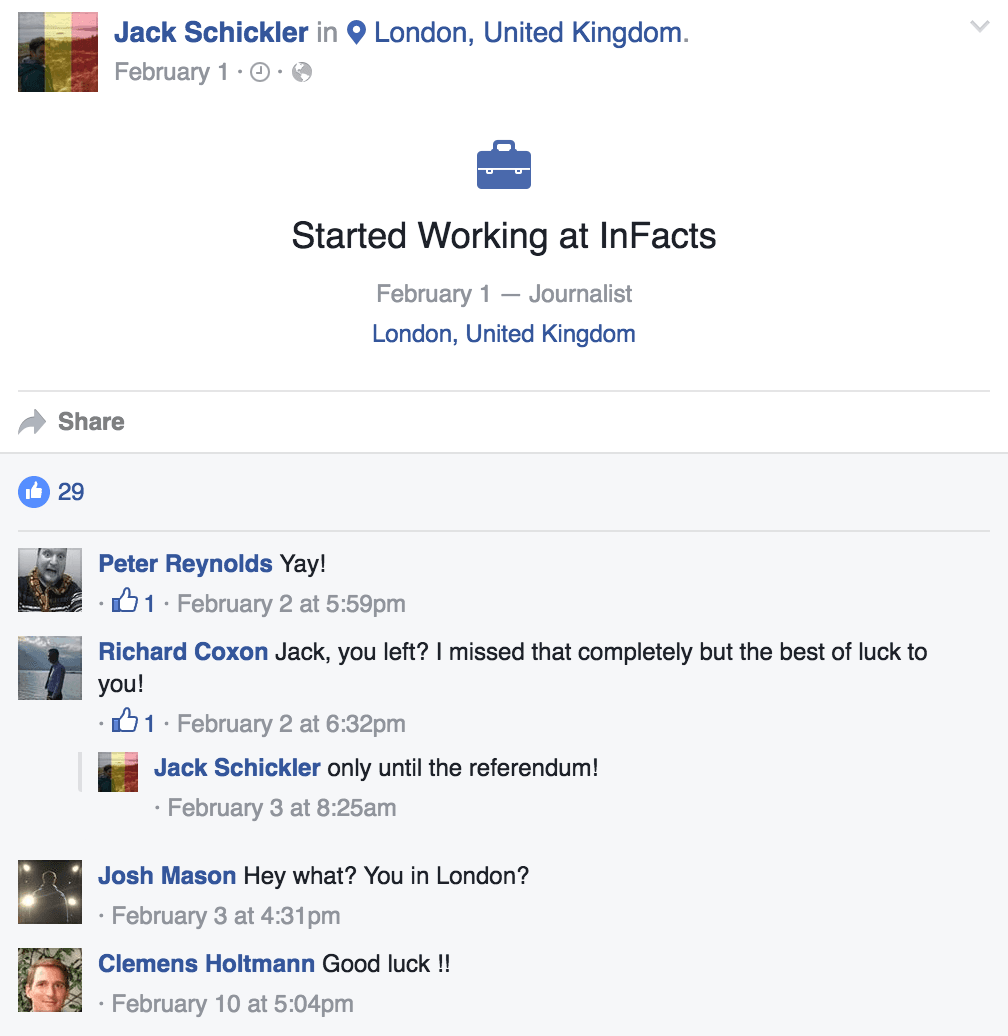 That sounds a lot like a plan to return to Brussels.
And why doesn't Mr. Schickler list his other roles at the Commission – specifically, his work for Jonathan Hill, in his biography?
Sure, Mr. Schickler says he is "not working for or paid by the Commission" – but it seems awfully convenient that a commission employee with no discernable background in journalism somehow becomes a fact-orientated "journalist" working for a site that pumps out Commission lines.
He even links back to his old job, in a post entitled: "UK stands to gain from EU digital plans". The article has no fewer than six links to European Union websites. A strategy replicated in a lot of his articles.
InFacts is attempting to blur the lines between EU spin and the facts. Indeed, if Mr. Schickler and his ilk were truly "journalists", they would be embarrassed of using the word "facts" to promote their 300-word blog posts.
He wrote of Mr. Farage: "We invite readers to decide who is the propagandist".
Well, what say you dear reader?