Torrential rain, flash flooding and tornadoes have caused chaos in parts of London and South East England as Britons head to the polls to vote in the EU referendum.
Britons living in London and the South East were woken by crashing thunderstorms and torrential rain last night as a turbulent weather front moved over England, ironically arriving there having moved upward from continental Europe.
Some areas have had a months' worth of rain, about two inches, in just an hour leading to flash flooding, while Kent saw mini tornadoes spinning over rooftops. One voter commented the unseasonal weather was "biblical".
I just had to be carried into a flooded polling station. It's something biblical… #remain pic.twitter.com/T8qeGC3zEd

— Helen Joanna Youngs (@hjyoungs) June 23, 2016
The inclement weather is likely to affect turnout for the EU referendum in parts of the country, as voters will have to battle through heavy rainfall and flooding to reach their polling stations. The expectation is that this will favour the Leave campaign, as polling has shown Remain voters to be less enthused about voting than their Leave counterparts.
Flood in London swim pic.twitter.com/SqxYvI3nIq

— Raymond williams (@Raymondw250) June 23, 2016
At least two polling stations have had to be closed thanks to flooding, with voters at those stations re-directed to cast their ballots elsewhere. Kingston Council advised voters in its area this morning that Devon Way in Chessington and Shiraz Mirza polling stations have both been moved elsewhere.
People in those areas who have not yet voted are advised to keep an eye on Twitter for information about where they should go instead.
Heavy rainfall overnight has lead to us having to move a further polling station in Malden Manor pic.twitter.com/xmnC0RfbXP

— Kingston Council (@RBKingston) June 23, 2016
Heavy rainfall overnight has lead to us having to move a polling station in Chessington pic.twitter.com/1n6AJhE0fw

— Kingston Council (@RBKingston) June 23, 2016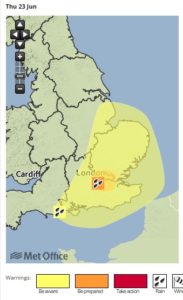 40 flood alerts, which warn of possible flooding, and eight flood warnings, which warn of likely flooding, have been issued by the Met Office. Thirty two of the alerts and six of the warnings were issued for locations in the South East of England and London; the remainder were issued within East Anglia.
By 10 am the fire service had taken 550 flooding related calls and attended over 400 incidents, including flooded premises and buildings hit by lightning, according to The Telegraph.
The flooding has also led to traffic chaos around much of the South East. RAC spokesman Simon Williams told the BBC: "We have seen a massive uplift in calls for help, with hundreds of extra breakdowns in London, Kent and East Anglia as motorists suffer the consequences of flash floods and the knock-on traffic delays.
"Alternative routes have become badly affected by the sheer volume of vehicles as drivers try to avoid the jams, and sadly this has led to yet more breakdowns."
Crews using rescue boats in #Romford to get people out of their homes. #Flooding update: https://t.co/wtHRVVOOhG pic.twitter.com/Zo62ePJoPC

— London Fire Brigade (@LondonFire) June 23, 2016
And Carol Baker explained how her daughter Nicola almost missed her Biology A level exam thanks to the delays caused by the weather: "I was driving from Basildon to East Ham to drop off my daughter, Nicola, at school. She was due to sit her biology A-level at 9am. We left the house at 6.30am. The commute usually takes an hour to get to her college. Today it took five hours."
Nicola was allowed to sit the exam in a separate room.
Here's a look at the thundery showers in the southeast last night, and what we can expect later today.https://t.co/VtIpcTXUcJ

— Met Office (@metoffice) June 23, 2016
Lighter rain is also expected in Scotland throughout the day. Meanwhile, the rest of the country is basking in a warm sun and blue skies.
The geographic layout of the inclement weather – focussed in pro-Remain London, the South East and Scotland while the sun shines over pro-Brexit England – has led to speculation that God favours a Brexit.
Follow Donna Rachel Edmunds on Twitter:

Follow @Donna_R_E

or e-mail to: dedmunds@breitbart.com