Thousands of lifejackets were laid out on Parliament square this morning in a political stunt attempting to "remind MPs they are failing drowning refugees".
The 2,500 lifejackets were put in place by campaigners from the International Rescue Committee (IRC) and were taken from the Greek island of Lesbos where they were left by illegal immigrants who had crossed the Mediterranean. London's Independent news site reports the Committee hoped the stunt would place pressure on the government as the United Nations Migration Summit opened in New York.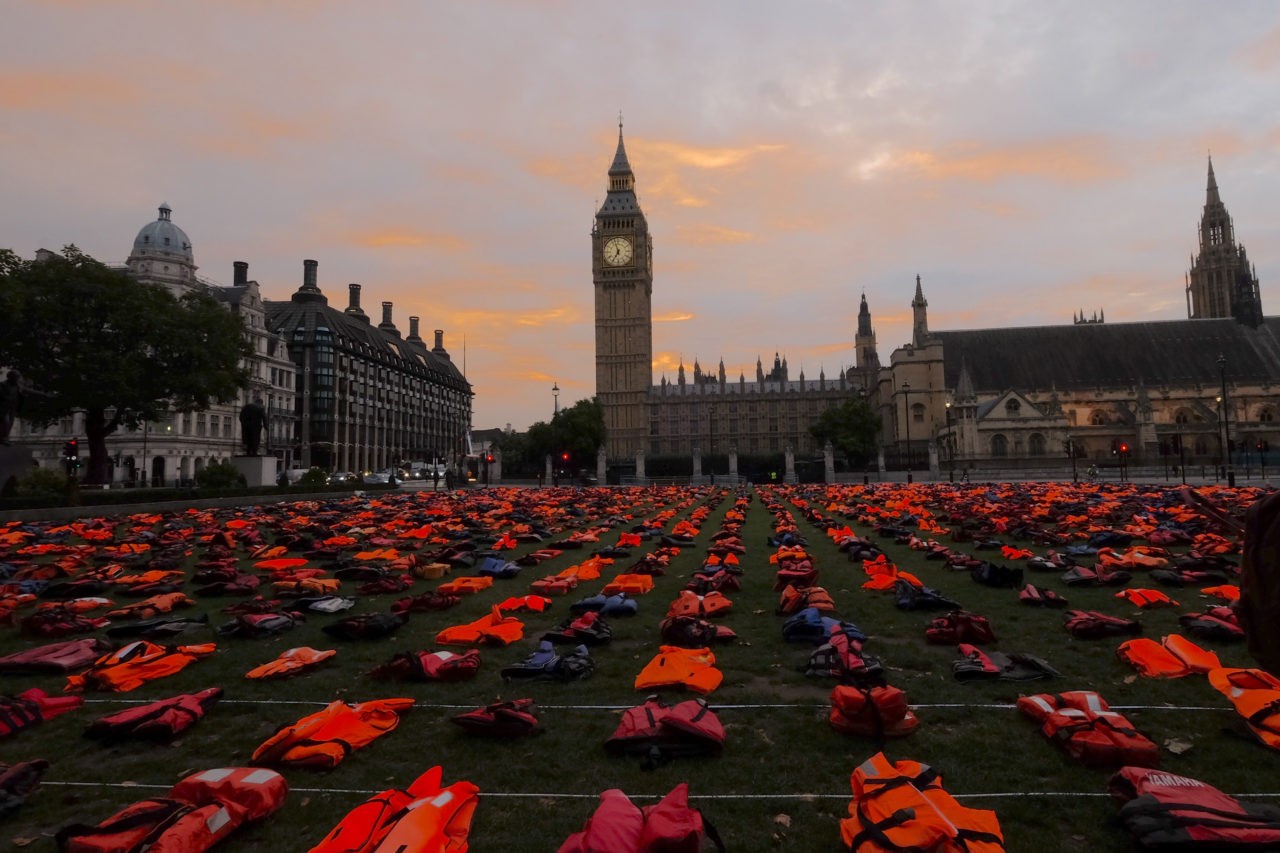 IRC director Sanj Srikanthan said of the display of lifejackets in Westminster: "This is meant to represent just some of the people who have died crossing the Mediterranean – refugees fleeing conflict just trying to get to safety.
"650 of these life jackets were used by children, you can still see the Disney stickers on some of them.
"Most of them are provided by smugglers, they are not safety checked, some of them absorb water, they become like an anchor if you fall in the water, especially for a child.
"So, today is meant to represent the tragedy of the modern refugee".
Yet the stunt was upstaged this morning by an inebriated man who took the opportunity to mock the stunt by feigning drowning.
The mountains of tens of thousands of used lifejackets building on Greek beaches have proved irresistible to some politically charged artists, and the Westminster square stunt this morning is not the first instance of the life preservers being moved in great numbers to European cities to make a point.
In February, Chinese dissident artist Ai Weiwei took thousands of lifejackets and wrapped the columns of the Berlin concert house "to highlight the plight of the hundreds of refugees trying to reach Europe every day by sea from Turkey". The jackets used for the stunt also came from the beaches of Lesbos, with the government on the island having reportedly given the artist 14,000 for his work.
Follow Oliver Lane on Twitter:

Follow @Oliver_Lane

or e-mail to: olane@breitbart.com