A man has been arrested after satirical "Pakémon" stickers were plastered across London, featuring well-known Muslims with the tagline "Gotta catch and deport them all".
The posters mimic Pokémon playing cards, which sport the tagline "Gotta catch 'em all" along with stats on Pokémon characters. The spoof posters assign "Terror points" as well as giving a description of each person and listing a "weakness".
Among those featured, is London Mayor Sadiq Khan, dubbed 'Hamaskhan', a reference to the Palestinian terror group Hamas.
Below a photo of Khan, the text reads: "Description: Probably the most dangerous Pakémon, Hamaskhan believes that Londoners should learn to accept Islamic terrorism whilst he is mayor.
"Weaknesses: Hamaskhan's hatred of Christians and Jews will result in him losing power and a long prison sentence."
He has been assigned 200 'terror points'.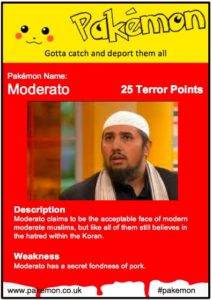 Another features Muslim convert Jordan Horner, who called for sharia law in London.
The text reads: "Gingermo is not a true Pakémon, having converted to Islam believing he might make some friends who are as angry and weak-minded as himself."
His "weakness" is listed as an "allergy to sunlight".
Other posters feature broad groups of characters such as Muslim Uber drivers, dubbed "Uberrapey", and young Muslim children, dubbed "Babyboomer", who could "be saved from the cancer that is Islam if the poisonous indoctrination ends".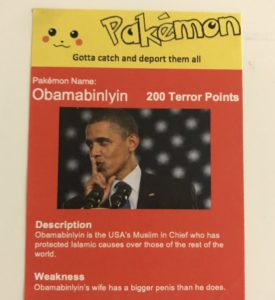 The outgoing President of the United States, Barack Obama, also makes an appearance despite not being Muslim. The text under his picture reads: "Obamabinlyin is the USA's Muslim in Chief who has protected Islamic causes over those of the rest of the world.
"Weakness: Obamabinlyin's wife has a bigger penis than he does."
The posters have been spotted all over London, including Bromley, Waterloo, and Wimbledon. But while some on Twitter have been swapping photos of those they've spotted, police have confirmed that they are treating the posters as a hate crime.
On Thursday they arrested a 46-year-old man in Sutton, South London, on suspicion of inciting racial hatred.
A spokesman for British Transport said: "British Transport Police is committed to preventing incidents of hate crime and prejudice and all incidents of this nature are investigated thoroughly.
"Everyone has the right to travel on the rail network without fear or intimidation. Racially or religiously motivated crime will simply not be tolerated."
Polemicist Pamela Geller commented: "It is now a crime to criticize Islam in Britain. If these stickers had lampooned any other group, no one would mind. But British authorities are determined to brook no dissent to their disastrous policies regarding mass Muslim migration and appeasement of Islamic supremacists."
Follow Donna Rachel Edmunds on Twitter:

Follow @Donna_R_E

or e-mail to: dedmunds@breitbart.com