The driver who ploughed his car into crowds on a Melbourne street killing four and injuring 15 others has been named as Dimitrious Gargasoulas, 26.
Gargasoulas, who claims to be 'Greek Islamic Kurdish' and a follower of Yazdanism, has been found to have posted multiple rambling messages on social media in the last few days, ranting about the "illuminati", promising "heaven and hell is real", and vowing to "have god's laws reinstated".
"I declare war on tyranny today, you dogs will have the option to either believe in me and his positive energy he offers and stay faithful to me or serve the one who enslaves you at his feet," he wrote on Facebook on Monday, the Daily Mail has reported.
He added: "I offer freedom no work no bills just that we all keep faith and believe in the one god, the one higher being for the good and protect the energy that he gives with your heart.
"God bless everyone in the world it is about to change xoxo."
A few days earlier he had posted: "I know exactly how to take you DOGS down the power of knowing has revealed and I shall have GODS laws re-instated."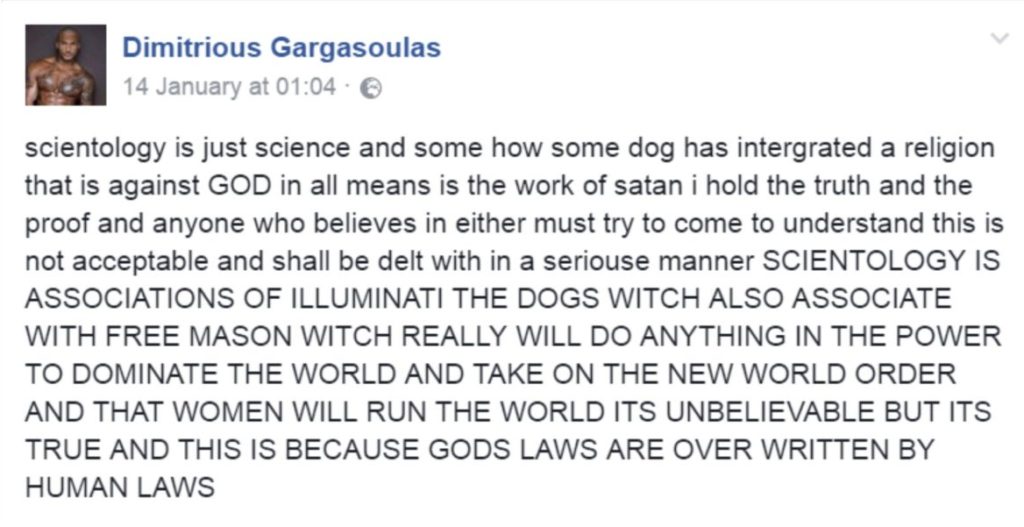 In a long rant in early January he wrote: "Today the Gods have given me wisdom and knowledge. They have awoken me.
"Keep in mind good will always prevail over evil and that is exactly whats to come in the following days weeks and so forth.
"I'll take you all out just me you need a army to take me […] wait until you see mine! For all those who know me… know I'm a genuine good sexy young guy.
"I've been blessed… and now your fucked".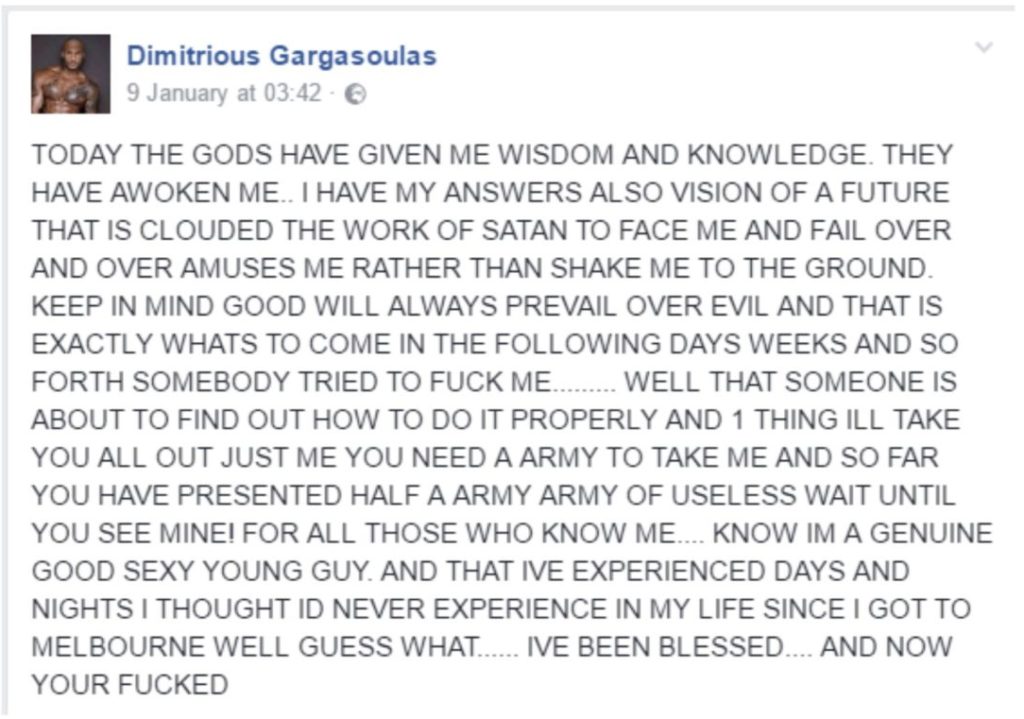 Two adults in their thirties and a young child, all unrelated, were killed early on Friday afternoon, local time, after a car smashed through the crowds on Melbourne's busy Bourke Street, a major intersection in Australia's second largest city.
A fourth person died from their injuries in hospital during Friday night.
Fifteen people were injured in the incident, including four children. Five of the injured are said to be in critical condition, including an infant.
Sharn Baylis, a tourist from the southern city of Adelaide, told the Australian Broadcasting Corp: "He was just collecting people as he was going along and they were flying like skittles, basically.
"He was just driving in a really determined fashion, just in a straight line. There was no hesitancy as he got to the crowds and he didn't swerve, it was just — he just drove through them."
Despite the similarity to Islamic terrorist attacks in Nice and Berlin in recent months, in which trucks have been used to plough through crowds, killing dozens, police have ruled out terrorism as a motive.
Police Chief Commissioner Graham Ashton said Gargasoulas had no links to terrorism, but was known to the police as he had a history of mental health and drug abuse issues as well as a record of domestic violence.
"This individual is not related to any counter-terrorism or any terrorism-related activities," Ashton said. "He is not on our books as having any connection with terrorism and we're not regarding this as a terrorism-related incident.
"What we do know of the person is there is an extensive family violence history involved.
"He has come to our attention on many occasions in the past. We have mental health and drug-related issues in the background of this particular person," he said.
Gargasoulas, who was already on bail for assaulting his mother's partner, allegedly stabbed his brother, Angelo, with a kitchen knife at about 2am on Friday morning, hours before the attack took place. He may have been on drugs at the time of the incident.
Neighbours say they heard the family yelling, but by the time police arrived the brothers had disappeared.
Follow Donna Rachel Edmunds on Twitter:

Follow @Donna_R_E

or e-mail to: dedmunds@breitbart.com