A Premier Inn in Hemel Hempstead put out a job advertisement this week which specified applicants were required to speak Romanian.
The advertisement, placed on job site indeed.com, required candidates to be both "flexible and reliable", have "great communication skills", and also to speak Romanian, reports Hemel Today.
A spokesman for Premier Inn later apologised for the demand and claimed it had been posted in error.
"As an equal opportunities employer we don't place language restrictions on any of our roles and this job description, which is now corrected, was unfortunately posted in error," the spokesman said. "We're sorry for any confusion caused and look forward to welcoming all applications."
The advertisement has now been extended to include Romanian, Polish, Russian, and English.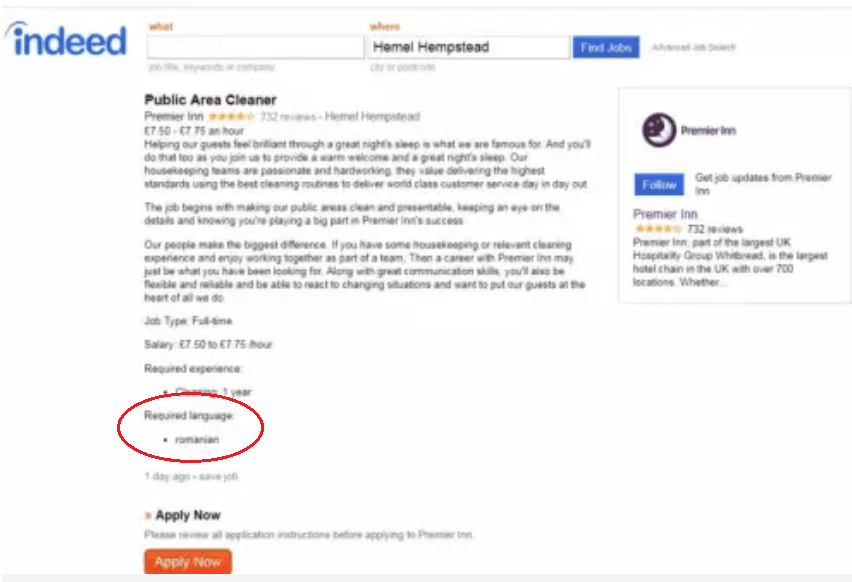 Last year, a similar incident took place in which a fully-qualified bus driver who applied for a job with the Arriva bus company was rejected because they were only hiring Romanians.
Immigration from Romania and Bulgaria to the United Kingdom is now at an all-time high, according to Office for National Statistics (ONS) estimates, as thousands of migrants flood the UK job market for wages that are far higher than what they would earn back home.
The Migration Statistics Quarterly Report for February 2017 found there has been a "statistically significant increase" in arrivals from the so-called EU2, Romania, and Bulgaria. Migration from these nations was up to 74,000 for the year to September 2016 – an annual increase of 19,000.
Follow Ben Kew on Facebook, Twitter at @ben_kew, or email him at bkew@breitbart.com.