The Department of Veterans Affairs (VA) has been hassling Airman Brian Kolfage, a retired Air Force veteran and purple heart recipient who lost both his legs and part of one of his arms in a rocket attack when he served in Iraq in 2004, Breitbart News has learned.
Kolfage was on his second deployment with the U.S. Air Force serving in Balad, Iraq in August 2004, when–on Sept. 11 that year–a rocket landed just feet from him. "It was basically an artillery round, like being shot by a tank," he said in an interview on Thursday evening with Breitbart News. "The thing landed like right next to, like two feet away from me, and it blew off my legs instantly and my hand."
He was unconscious for some time after that, including while he was transferred to Walter Reed military hospital in Bethesda, MD. "Everybody thought I was going to die," Kolfage said.
But Kolfage survived the attack; he is the most severely wounded airman to survive any war in American history. "I was at Walter Reed for about a year," he said. "After I left Walter Reed, I continued my job with the Air Force but as a civilian down here at Davis-Montham Air Force Base [in Tucson, AZ]. I was a base security manager for two years."
After some time at Davis-Montham Air Force Base, Kolfage retired from the military to return to school to pursue a degree in architecture. He graduates in a couple months. From the VA, he receives a monthly check. "I am retired–medically retired," he said. "Once I retired, they give me what is called a disability compensation. It's basically blood money for what happened to me. I get a monthly check, I get it for life no matter what. If I die, my daughter and wife get it."
Kolfage was married before sustaining his injuries, and those who receive such checks get an increased amount if they are married. In early 2011, however, he and his first wife divorced. "I was in a previous marriage and I got divorced," Kolfage said. "I was in another relationship because my divorce dragged on for a couple years, so when I got divorced I was remarried a couple months later. This was in 2011–my divorce was finalized in 2011 and I got remarried in 2011."
On Sept. 12, 2013, Kolfage received a letter in the mail from the VA indicating that the agency conducted a random investigation into his background and found out that he was divorced in early 2011. "Pima County Superior Court online records indicate that you divorced [his ex-wife] on January [date in 2011]," the letter, which Kolfage provided to Breitbart News, reads. "We propose to remove [his ex-wife's name] as a dependent effective February 1, 2011, the first of the month following the date of your divorce. We propose to reduce your benefits from February 1, 2011 as follows."
The VA then included a chart that laid out how the agency planned to charge him about $4,800 over the course of the next several years to make up for the discrepancy. The letter mentions nothing about how Kolfage was remarried just a couple months later, so it appeared to be a mistake. Kolfage then worked with a representative from the VA in Phoenix to solve the discrepancy.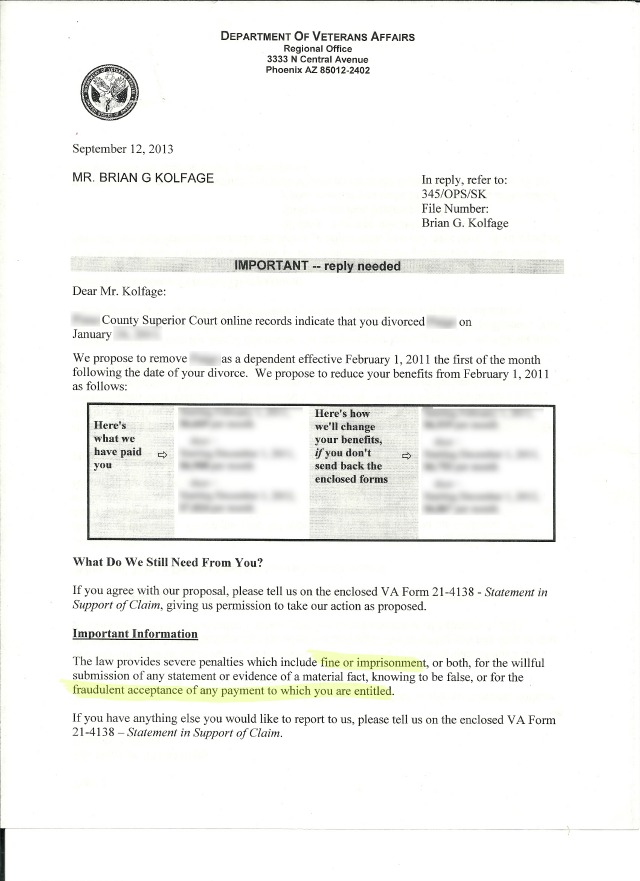 "So, someone randomly did a background check on me and found out I was divorced," Kolfage told Breitbart News. "And I guess they compared it and they thought I was getting overpaid for X amount of years — early 2011 until now. So that's where that came up. I sent them all the stuff back and was like, 'No I was married again soon after that,' and I sent them my marriage certificate. And I said that 'if you guys did a background check on me you would have saw that I was married as well.'" 
"My local VA in Phoenix, the guy I was responding to there was real helpful," he said. "I sent my stuff in and a couple days later they sent my stuff back, and then he said, 'You need this and that and that,' and so I sent it in."
After dealing with that local representative, Kolfage said he received another letter from the VA admitting they made a mistake and that it was all straightened out now. "At the end of all that, everything was finalized," Kolfage said. "I received a letter saying it was good to go. I tried to find the letter but I can't find it. But basically it said everything was quashed and that I wouldn't have to pay any money and that it was taken care of." 
"The one where they said it was over, I read it and was like 'cool.' And I chucked it," he explained. "I looked forever and I'm kind of pissed [that I can't find it]. But I have every other letter."
Later, on Oct. 29, 2013, Kolfage received a third letter from the VA. This letter indicated he still owed the more than $4,800 to the VA–and that the discrepancy had not, in fact, been fixed. Kolfage has tried calling the VA again to deal with the issue to no avail; the 1-800 number, he says, "doesn't allow you to talk to anybody."
"It just tells you they're really busy and to call back another day and hangs up on you," Kolfage said. "That's what I've been dealing with and I'm just kind of sick of it."
Phone calls and voice mails from Breitbart News into the VA's national press office regarding Kolfage's case have not been returned days later.
Kolfage said that while he is close with his congressman Rep. Ron Barber (D-AZ)–he had served as a volunteer to help now former Rep. Gabby Giffords (D-AZ), whom Barber replaced after she she was wounded–he is tired of big government problems and decided to speak up publicly about the matter.
"I really don't know but the VA is so mismanaged there's no telling whether it might be just someone clearly slacking on their job," Kolfage said. "But I really don't know of any other veteran that uses their military rank and picture and speaks freely on stuff like me. So, I'm sure they're aware of me and I'm sure someone is like 'Who is this guy talking?' But I really don't know."
About Obama, Kolfage told Breitbart News that he is "not a fan at all."
"I mean, I think that he's like the worst president in a long, long time and he's destroying our country with his policies and just his whole administration's contempt for the American people," Kolfage said. "No one in his administration is held accountable for anything and it is just a failure to lead. He's never led our country. He's never rallied the House or the Senate to come together and unite on any issues. He just doesn't want to. He divides the country. He divides our population."
As for Obamacare, Kolfage said he thinks "it's horrible."
"It's not efficient and the government can't handle veterans and there's what, 300 million citizens of the United States? How are they going to handle 300 million citizens in one system that can't handle a handful of veterans?" he wondered. "Everything's a bureaucratic hassle with red tape."
Kolfage added that while the VA "knows I'm missing my limbs," if he needs "approval" for treatment on any other medical issues, he must "go in and schedule this big appointment and meet with all these doctors and say, 'Hey I want this.'"
"I can't call them — I have to go in and face this like huge committee," he said. "Everything is such a hassle. Now, I have a lot of connections with the VA so a lot of stuff is easier for me. I just think about all the people who don't have these connections and I basically think they're getting screwed over. That's why I really want to — with anything that happens to me at the VA — I want to just push it out so people know what's really going on."