Michelle Obama's #bringbackourgirls tweet has become the laughingstock of the Islamic State of Iraq and al-Sham (ISIS), the militant jihadist group terrorizing Iraq. Jihadists have allegedly doctored the original photo of the First Lady brandishing a hashtag and added "#bringbackourhumvee," a reference to stolen American military equipment.
The #bringbackourhumvee hashtag is now full of variations on the original image, in which the First Lady holds up a piece of paper with the hashtag associated with the more than 200 girls abducted by jihadist terror group Boko Haram in Nigeria. The jihadists and supporters have doctored the photo to replace the text in the paper with a number of jokes regarding the theft of American Humvee vehicles in Iraq.
#bringbackourhumvee Les sites Jihadistes font dans l'humour sur l'Irak… #ISIS #ISIL #Iraq pic.twitter.com/TT7dujtDWp

— Ulysse Paris (@ulyssepariser) June 18, 2014
There are a number of variations of the meme online, some more subtle than others, all either promoting ISIS or making light of the United States' current inability to stop their progress towards Baghdad.
According to Al Arabiya, ISIS members confiscated American-made Humvees during their capture of a number of northern cities in Iraq last week. Various theories have surfaced as to the jihadists' use of these vehicles; while some believe they will remain in Iraq to be used against the Shi'ite-led government there, reports from the Free Syria Army note that sightings of Humvees entering Syria from Iraq have been reported.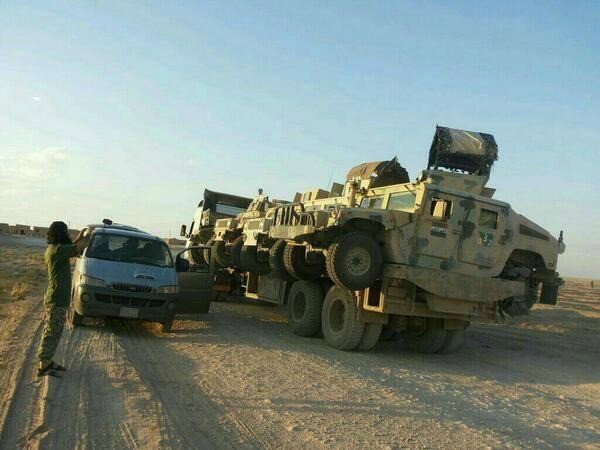 The shift from using social media to promote their cause to openly mocking the United States and its military power is a relatively new one. It is also not exclusive to the United States. The group recently released a new video using their English-speaking counterparts recruited from outside the Middle East to promote jihad. The video, unearthed by WeaselZippers and titled "There is no Life Without Jihad" is hosted by a British man introduced as Brother Abu Muthanna al-Yemeni, who boasts that few jihadist groups have as many international recruits as ISIS. "We will even go to Jordan and Lebanon with no problems," he asserts, before handing off the program to a round table of jihadists that dismiss the idea that "now is not the time for jihad" and propose jihad as cure for depression. "Feel the happiness we are feeling," exclaims one of the jihadists.