Reuters reports that the Islamic State has taken over most of the Western Iraqi town of al-Baghdadi, putting them dangerously close to the Ain al-Asad air base, where 320 U.S. Marines are engaged in training soldiers from the Iraqi 7th Division.
At this point, there are conflicting reports about whether the air base housing those Marines has been attacked unsuccessfully, hit with a few stray rounds, or subjected to a more serious assault by ISIS forces.  The Reuters report is somewhat confusing on the matter:
Al-Baghdadi, about 85 km (50 miles) northwest of Ramadi in Anbar province, had been besieged for months by the radical Sunni Islamist militants who captured vast swathes of northern and western Iraq last year.

"Ninety percent of al-Baghdadi district has fallen under the control of the insurgents," district manager Naji Arak told Reuters by phone.

Militants attacked al-Baghdadi from two directions earlier in the day and then advanced on the town, intelligence sources and officials in the Jazeera and Badiya operations commands said.

The officials said another group of insurgents then attacked the heavily-guarded Ain al-Asad air base five km southwest of the town, but were unable to break into it.

About 320 U.S. Marines are training members of the Iraqi 7th Division at the base, which has been struck by mortar fire on at least one previous occasion since December.

Pentagon spokeswoman Navy Commander Elissa Smith confirmed the fighting in al-Baghdadi. She said there had been no direct attack on the air base, adding: "There were reports of ineffective indirect fire in the vicinity of the base."

An Iraqi defence ministry spokesman declined to comment on the situation in Anbar.

The death toll from the fighting was not immediately clear.
Business Insider provides a map that shows just how close the captured town of al-Baghdadi is to the Ain al-Asad air base: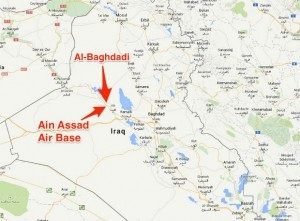 Some early reports said ISIS had actually stormed and captured the air base, trapping the Marines inside, but fortunately that doesn't seem to be the case.  This is not the first time ISIS has taken a swing at al-Assad; in January, NBC News reported senior defense officials saying the base received "almost daily" pounding from Islamic State mortars, but the shelling had been "completely ineffective."