Newly declassified U.S. military documents have revealed much more than was previously known about the history of the Islamic State (ISIS) "Caliph" Abu Bakr al-Baghdadi, including the revelation that his former day job was as an administrative assistant, Business Insider reports.
Baghdadi, whose real name is Ibrahim Aqad Ibrahim al-Badry, was captured in February 2004 by American forces and spent close to a year in U.S. military prison Camp Bucca in the south of Iraq.
The Army file lists Baghdadi as married and his uncle as his next of kin. The names of his relatives have been redacted.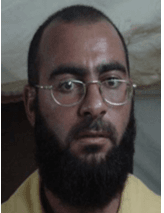 Photo: Army Corrections Command
The report reveals that the ISIS leader was captured by a U.S. military intelligence unit in Fallujah, a city that is located about 43 miles west of Baghdad. Baghdadi was scooped up because his friend was reportedly the target of the Army raid.
The Business Insider report reveals:
Baghdadi's detainee I.D. card lists him as a "civilian detainee," which means he was not a member of a foreign armed force or militia, but was still held for security reasons. His "civilian occupation" was identified as "ADMINISTRATIVE WORK (SECRETARY)." As of 2014, he was listed as being 43 years old though his birth date was redacted. Baghdadi's birthplace was identified as Fallujah.
Army Corrections Command released some of the records in Baghdadi's detainee file, which provide a previously unseen photo that shows him wearing glasses. The Army file also reveals that Baghdadi weighed a slender 165 pounds at the time.
: