Having written recently about Westerners traveling to Iraq and Syria to volunteer for duty with Kurdish units against ISIS, I was sad to see the UK Telegraph's report that the first such volunteer has been killed in battle. He was an Australian who fought under the Kurdish name "Bagok," and he died while serving with the YPG militia in Syria, which has a battalion of foreign fighters known as the "Lions of Rojeva."
According to the Telegraph report, Bagok heard about this battalion while on a backpacking trip through Europe, and decided to sign up.
Bagok was reportedly killed during a firefight with ISIS during an offensive that brought the YPG close to the Iraqi border. Via the Daily Star, the Syrian Observatory for Human Rights further clarifies that his death came during "an assault on Tuesday by the Islamic State against a position of the Kurdish People's Protection Units near Tal Hamis in Hasakeh province."
The Telegraph reports that the Kurds' objective was to loosen the Islamic State's grip on "a key highway stretching eastwards from its heartland in the Syrian province of Raqqa to Iraq's second city of Mosul." They have reportedly been able to recapture three Assyrian villages and an Arab village from the Islamic State over the past 24 hours.
Few details about Bagok have been unearthed, although there are photos of him all over the Internet, many posted in tribute by other Western volunteers against ISIS who met him and praised his leadership.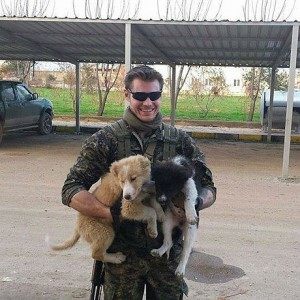 He seems to have had prior military experience – recently returned American volunteer fighter Robert Rose thanked Bagok for teaching him how to strip his rifle. According to the Sydney Morning Herald, a Kurdish Syrian translator who claims to have seen the Australian on Mount Sinjar in Iraqi Kurdistan last month said he was suffering from eye injuries due to a suicide car-bomb explosion, was using the nickname "Gabar" (the name of a Kurdish mountain in Turkey) and might have been named "Ashley." This eyewitness was confident that he was a professional soldier, based on his confidence and combat experience.