In March, an Israeli documentary exposed Hamas's use of trained child soldiers, which is against international law. Now, one month later, the Hamas Interior Ministry itself proudly displayed a picture of a 5-year-old soldier on their Facebook page.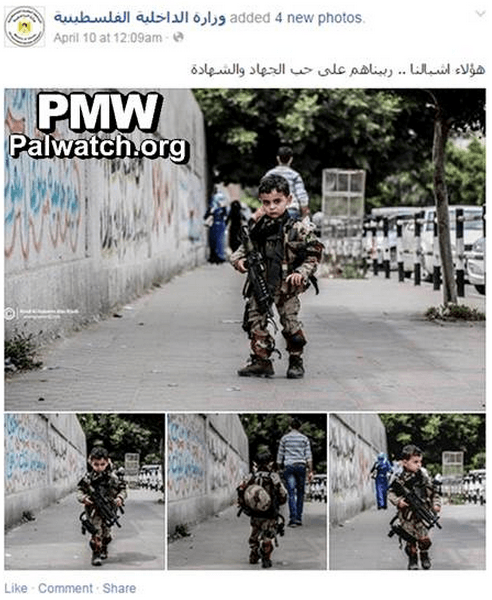 The little boy is dressed in army clothes with an automatic rifle in his hand. The text by the picture says, "These are our lion cubs. We have brought them up on the love of Jihad and Shahada (Matrydom-death)."
The ministry is part of the Palestinian Authority (PA) since 2014. However, "the two bodies have been acting independently with the rival factions continuing to feud."
In the documentary, called "Children's Army of Hamas, funded by the Israel-based Center for Near East Policy Research (CNEPR)," the Hamas terrorists discuss "the training of child soldiers and exalting suicide bombers at military-style youth camps." Fathi Hamad, Hamas Interior Minister, talked about "the indoctrination of children" and even appeared "to acknowledge they are being trained to fight."
"We are strengthening their religious awareness and inducing solidarity with their country," announced Hamas. "This solidifies their jihad, and their commitment to being a warrior, a curse to Israel."
The filmmakers wanted to show the UN that Hamas knowingly violates the UN Convention on the Rights of the Child. They also hoped the UN would recognize the fact that Hamas is exploiting the United Nations Relief Agency for Palestinian Refugees in the Near East.
But the picture also shows that Hamas is not much different from the Islamic State (ISIS/ISIL). The terrorist group enjoys showing off their child soldiers, known as Caliphate Cubs, on social media and in videos. In December, ISIS released a video of a children's training camp around Damascus Syria, in which children are seen practicing combat on each other and being beaten. The video was more brutal than previous tutorials.
A video from August showed children displaying their knowledge of military exercises to Omar al-Shishani, a Chechen leader in ISIS. The kids, who appear to be between 5 and 7 years old, were dressed in camouflage vests and held large guns in the video. In a classroom, they show off chants, songs, and military formations they learned. At one point, the boys fall to their knees, raise the guns to their eyes, and show al-Shishani they can balance the gun and aim properly.
The video shows the children walking to the lobby of the training center. One of the oldest shows his ability to quickly take apart the gun, reattach it, and load the ammunition. After that, they hide behind a wall and perform a mock military exercise for al-Shishani.