A good many readers of my website, PamelaGeller.com, have written me over the past couple of weeks, concerned about a deceptive ad that the Islamic Circle of North America (ICNA) is running in a number of American cities. ICNA is an Islamic organization that has been probed by the FBI for ties to terrorism. They are running a deceptive Muhammad propaganda campaign claiming that Muhammad advocated peace and women's rights. You may remember their pro-Sharia for America ad campaign.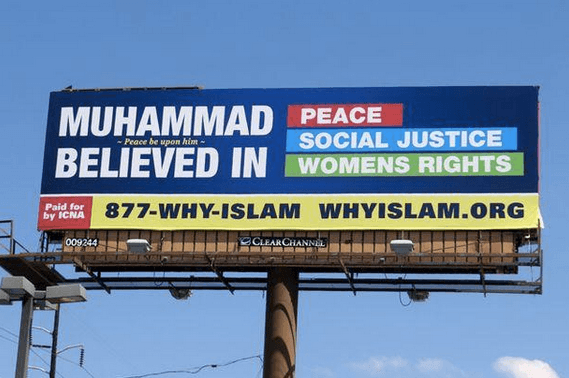 ICNA's billboards in Atlanta claim that "Muhammad — peace be upon him — believed in peace, social justice, women's rights," along with a phone number to find out more about Islam. They're planning on having 100 of these billboards around the country by the end of the year, while hosting conferences in various cities around the country about Sharia and Muhammad.
We countered ICNA's lies with the truth about Muhammad. Our ad reads, "Muhammad believed in war, denial of rights to women, denial of rights to non-Muslims, deceit of unbelievers," and directs people to an AFDI website, TruthAboutMuhammad.org. At that site, we laid out abundant evidence for what we said about Muhammad – evidence taken from core Islamic texts.

We submitted our ads to go up in Atlanta in the same areas as the ICNA kitman billboards: Camp Creek Parkway at Desert Drive; at Mountain Industrial Boulevard at Stone Mountain Freeway; and at Chamblee Tucker Road at I-285.
Clear Channel rejected our ad, saying it wasn't very nice. So we submitted a different ad, using Muhammad's own quotes. That way Clear Channel could not say we were editorializing or opining. Our new ad quoted Muhammad saying, "I have been made victorious through terror"; "I have seen that the majority of the dwellers of Hell-fire were you (women)"; and "I have been commanded to fight against people."

Clear Channel rejected that ad, too.
ICNA is dedicated to "establishing a place for Islam in America" – which means a place for jihad and a place for Sharia. ICNA, like the Hamas-tied Council on American-Islamic Relations (CAIR), is a terror front group whose "Muslim advocacy" front masks their true Islamic supremacist agenda. Despite the carefully constructed myth surrounding Muslim Brotherhood groups in America, advanced by a hostile and pro-jihadist media, the truth about these subversives is out there.
ICNA works closely with radical Islamic organizations and invites radical speakers to its conferences. It was named in the Muslim Brotherhood document — entitled "An Explanatory Memorandum on the General Strategic Goal for the Group in North America" — as one of the Brotherhood's 29 likeminded "organizations of our friends" that shared the common goal of destroying America and turning it into a Muslim nation.
These "friends" were identified by the Brotherhood as groups that could help teach Muslims "that their work in America is a kind of grand Jihad in eliminating and destroying the Western civilization from within and 'sabotaging' its miserable house by their hands … so that … Allah's religion [Islam] is made victorious over all other religions."
The Muslim Brotherhood group ICNA is lying to Americans about Muhammad, Islam, and Sharia in order to advance a false narrative about the most extreme and radical ideology on the face of the earth. Period. They don't want Americans to know the truth that the gendercide of honor killings, the clitoridectomies, the stonings, and the 1,400 years of cultural annihilations and enslavements are all Sharia-mandated and inspired by Muhammad's example.
When Clear Channel rejected our ad, I had a discussion with Jack Jessen of Clear Channel, who said that he could not run our ad. I asked Mr. Jessen why, and he said that it had a "negative connotation to it."
I told him that I was using direct quotes from Muhammad. But he said it was "very negative-based" and that he "considered it an attack" on ICNA. I pointed out that I hadn't even mentioned ICNA and that the ICNA ad wasn't honest. I explained that the ICNA is a terror-tied group and explained their background.
I said that we didn't oppose his running it, because it's a free country. But if he was going to run that kind of propaganda, he had to allow a counterpoint. He had to allow the truth. At least our ads featured quotes, direct quotes from Muhammad.
Mr. Jessen admitted that he "didn't know enough about the details of it," but he just knew "that's the way he perceived it."
I reiterated that I was not attacking ICNA in the ad — I even offered to change the layout, the colors, which were similar to those in ICNA's ad. I explained that he was running something that was completely and utterly false because he perceived it as good. But it was not good. I explained that he was helping to disarm the American people in a very grave threat.
I told Mr. Jessen that I was willing to work with him. I changed the ad once, but for him to say absolutely no was just so wrong. It was unconscionable.
He suggested I talk to another company in Atlanta. I asked if he knew of a company in Atlanta that would run it. He said that he did not.
So I responded that it was Clear Channel that ran the ICNA ad. How did he reconcile that?
He could not answer. I gave him the primary sources of the quotes. So whom was I attacking? Muhammad said it.
He said that he didn't recognize the names of the sources of my quotes. "I have been made victorious through terror" came from Sahih Bukhari 2977. "I have seen that the majority of the dwellers of Hell-fire were you (women)" is from Sahih Bukhari 304, and "War is deceit" comes from Sahih Bukhari 3029.
In contrast, Jessen admitted that he used Wikipedia to vet our ad.
He admitted that he was in "a difficult position."
I said, "You're an advertising company that is obviously taking issue-related ads. So if this ad doesn't go up, you know that Clear Channel will come under attack for not taking this ad, because they are showing a preference."
He said that he would talk to his people in corporate and get back to me. He never did.
Please contact Clear Channel: jackjessen@clearchannel.com — and politely and courteously tell him that you don't appreciate his capitulation to Islamic law.
Clear Channel Outdoor
1200 Wilson Way SE # C
Smyrna, GA
(678) 309-0085
Clear Channel Broadcasting
1819 Peachtree Rd #700
Atlanta, GA
(404) 367-0640
Clear Channel
315 Chester Ave SE
Atlanta, GA
(404) 581-1901
Pamela Geller is the President of the American Freedom Defense Initiative (AFDI), publisher of PamelaGeller.com and author of The Post-American Presidency: The Obama Administration's War on America and Stop the Islamization of America: A Practical Guide to the Resistance. Follow her on Twitter here. Like her on Facebook here.