Pictures of an effigy of President Barack Obama hanging over a bridge near the Ural Mountains made the rounds on Russian social media outlet VKontakte. The effigy was dressed in a button-down shirt and slacks, with its head covered by an executioner's hood.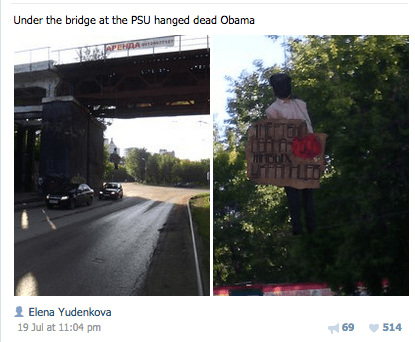 "One dead Obama is worth 7,650 living Ukrainians," read the sign around the effigy's neck.
The 16-month war between Ukraine and Russia in east Ukraine killed over 7,000 people. It also led to sanctions against Russia from the United States and European Union. The tensions between Russia and America are highest since the Cold War.
"I almost had a stroke when I passed under the arch and lifted my eyes upwards. I thought there was really someone hanging there," responded one social media user.
This is not the first time Russians mocked Obama. To mark the start of Lent, Russians generally burn an effigy of Lady Maslenitsa. But in February, Russians in Kaliningrad decided to burn an effigy of President Obama. Those in Crimea, which Russia illegally annexed from Ukraine in March 2014, also burned an effigy of the President "with the word 'devil' scrawled across its forehead."
On February 23, for Defender of the Fatherland Day, Russians in St. Petersburg paraded a prop "ballistic missile" and threatened to "personally deliver" it to Obama.
Russia is celebrating Army's Day today. Sign on missile says "To be personally delivered to Obama" – @mgurmgur pic.twitter.com/lVS08FpVRO

— Conflict News (@rConflictNews) February 23, 2015