More European nations have been urged to join air strikes against Islamic State groups in Syria as a way of tackling the escalating refugee crisis gripping the continent.
Australia's Foreign Minister Julie Bishop said jihadist terrorists were responsible for driving hundreds of thousands of migrants to Europe and a broadening of the coalition fighting them – as well as an increase in operational tempo – was a way of stopping that flood at source.
"Over 40 per cent of the people currently seeking asylum in Europe are from Syria, and we need a united front to defeat the terrorist organizations that are driving the displacement of so many people," she told reporters in Sydney.
"Already there are about 60 countries that are providing support in one way or another to the US-led coalition.
"But there's more countries can do in terms of supporting the air strikes which are proving effective in stopping Daesh (IS) from claiming territory off sovereign governments and from inflicting so much barbaric violence."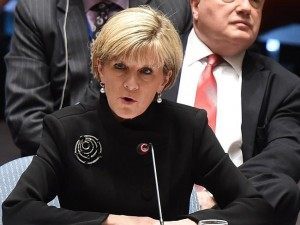 Bishop (pictured right) was even more explicit in an interview with The Australian newspaper, published Monday. She wrote:
"Countries adjoining Syria and Iraq, Lebanon, Jordan and others are bearing the brunt of millions of people fleeing into their borders and then into Europe.
"That's why I believe the Europeans must be involved in the coalition airstrikes and the effort in Syria and Iraq."
Only a handful of European nations are currently conducting air strikes against the jihadists, including France and Britain, as part of a coalition of western and Arab powers. Coalition nations which have conducted air strikes in Iraq include Australia, Canada, Denmark, France, Jordan, Netherlands, United Kingdom and United States.
Coalition nations which have conducted air strikes in Syria include Bahrain, Canada, Jordan, Saudi Arabia, United Arab Emirates and the US.
Just last week the Royal Danish Air Force began withdrawing its fleet of Lockheed Martin F-16s from the Middle East, where the aircraft had been participating in the air campaign effort against extremists in Iraq.
Foreign Minister Kristian Jensen is reported by the national Danish Broadcasting Corporation (DR) as saying that the F-16s will now undergo repairs and maintenance and the personnel operating them will receive additional training.
Seven F-16s – four active and three reserve – had been operating in Iraq against Islamic State militants since parliament authorised the deployment in September 2014.
Australia meanwhile has six Royal Australian Air Force (RAAF) F/A-18 combat jets and support aircraft, based in the United Arab Emirates, taking part. The combat groups is one its third rotation with the first strikes starting back in September 2014.
Bishop separately told Australia's Channel Ten that air strikes were a risky proposition but still necessary.
"Some estimates say there are about 30,000 of these fighters who embed themselves in towns and cities. The difficulty for coalition air strikes is to not hit civilians and so they are limited in what they can do," she said.
"But Daesh is across both the Syrian and Iraq border. They have claimed that area.
"It's essentially ungoverned by either the Syrian regime or the Iraqi government. And that's why there's this request from the US for Australia to join the coalition, that is carrying out air strikes over the Syria-Iraq border."
The Australian Government is currently considering a US request to expand Australia's operations against the IS group from Iraq into Syria. Cabinet's national security committee will meet this week to discuss the issue.
Follow Simon Kent on Twitter:

Follow @SunSimonKent

or e-mail to: skent@breitbart.com