People from Africa and the Middle East continue to flood into Europe, seeking a better life and stability for their families. While the media reports each new arrival, nothing speaks louder than pictures of these people risking their lives to reach Europe. The migrant crisis continues unabated throughout the continent this week.
A photo of a Syrian boy who washed up on a Turkish beach has captivated the world this week, prompting international outrage from both supporters and opponents of granting asylum to these refugees.
Drowned Syrian toddler embodies heartbreak of migrant crisis http://t.co/WBVcSeBvhw pic.twitter.com/eLgVO29Sh6

— Los Angeles Times (@latimes) September 3, 2015
As the crisis has developed throughout the year, hundreds of photos spanning Spain to Turkey tell the story of these deadly journeys. Some end in safety, but many have ended in tragedy.
#Europe's migrant influx: Italy, Malta left alone to face emergency http://t.co/XbHJ8ru2JK #immigration #Syria #Libya pic.twitter.com/dRUviUpzkg

— Aureliano Ferri (@AurelianoFerri) June 26, 2014
Authorities report that Italy, Malta, and Greece have received the greatest number of migrants.
UNHCR says urgent European action needed to stop rising refugee & migrant deaths at sea http://t.co/xHmZty46jU pic.twitter.com/rdchI5p4Mu

— United Nations (@UN) August 2, 2014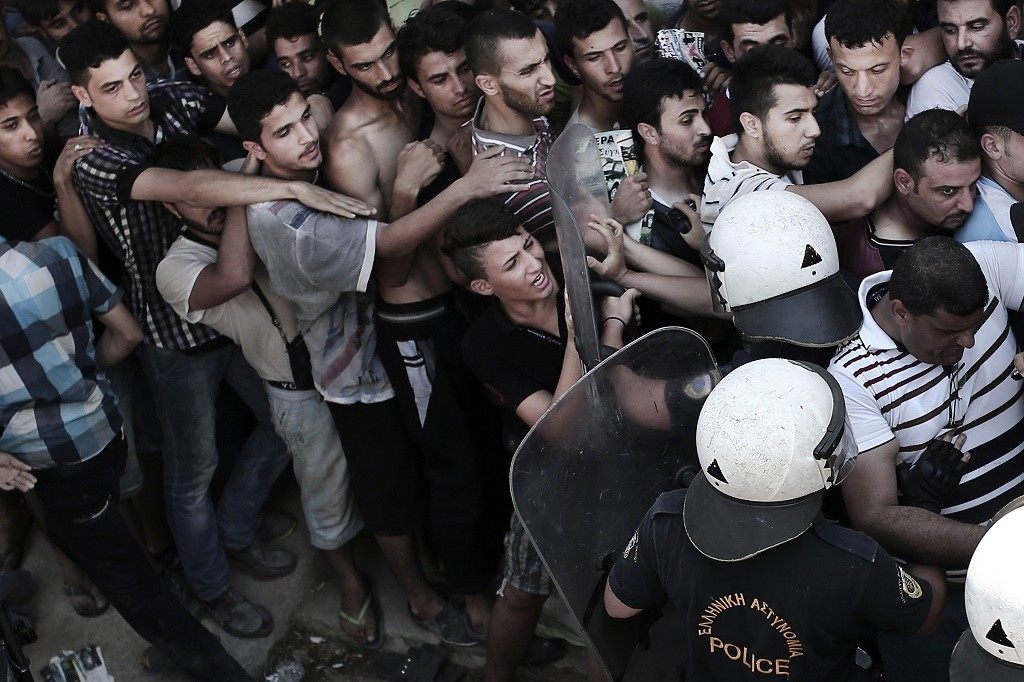 The people pay smugglers to travel on boats not meant for human cargo, packed in tightly. There is no food, water, shelter, or bathroom.
"@BBCWorld: #Migrants boat sinks off #Libya coast – more than 150 people feared drowned http://t.co/fiMQ6pmDub pic.twitter.com/KbWZHmbGij" #RIP

— Francis N (@The_UK_Migrant) August 23, 2014
So sad! Italian Navy Rescuer carrying migrant on navy dinghy to larger ship. Freeze frame of video from @ItalianNavy pic.twitter.com/4y0mCk1hVl

— Trisha Thomas (@TrishaThomasAP) August 28, 2014
Hard not to recall scenes like this knowing Euro migrant search and rescue ops being cut back http://t.co/e3bRqMP5eq pic.twitter.com/xX9ShUsL77

— Andrew Katz (@katz) October 28, 2014
Countries erected fences years ago to prevent illegal border crossings, but the structures have not been able to stop people like the man in the photo below. His expression alone shows the world what these people will do to escape poverty, war, and destruction.
An African migrant grimaces while trying to scale the border fence between Morocco and Spain pic.twitter.com/Cb0u1vwbjD

— Nehe Milner-Skuddy (@Mawandinho) October 28, 2014
Boat rides are incredibly dangerous because many people do not know how to swim, coming from landlocked countries.
Weekend Staff Pick: The global community is facing an unprecedented migrant crisis. http://t.co/6CsH00o6Sz pic.twitter.com/Wk9F07N4AZ

— The Takeaway (@TheTakeaway) November 15, 2014
Personnel from European countries have done everything they can to help those who manage to survive the deadly journey.
Dr Mendao Rodrigues helps migrant on Viana do Castelo as Operation #Triton kicks into action rescuing 201 migrants pic.twitter.com/pOhLuytaPr

— Trisha Thomas (@TrishaThomasAP) November 16, 2014
#Migrant children rescued in Mediterranean Friday night by Portuguese vessel as part of Operation #Triton pic.twitter.com/aLEutZ4zrQ

— Trisha Thomas (@TrishaThomasAP) November 16, 2014
Once these people reach land, they often want to keep going deeper into Europe. Macedonia and Hungary are the latest land-locked countries to receive thousands of migrants. Families are desperate to move to nations like France and the UK, where they believe they can find a better life.
How Macedonia became the latest front in Europe's migrant crisis http://t.co/nVqR7N6okp pic.twitter.com/e0VqdkfpbA

— The Hungary News (@TheHungaryNews) August 24, 2015
Record numbers of migrants are making the perilous journey to Europe through Balkan corridor http://t.co/IWLcoIyiO4 pic.twitter.com/SbP6QmERcp

— Sky News (@SkyNews) August 29, 2015
Moment young migrant girl gets her hair tangled in barbed wire while scrambling into Hungary http://t.co/RtyLORYvU7 pic.twitter.com/O4gReyQGrv

— Daily Mail Online (@MailOnline) August 27, 2015
On multiple occasions, the migrants have interrupted mass transit by rushing trains and attempting to smuggle themselves onboard.
#Migrant chaos: #Hungary rail station opens, but trains stay put | http://t.co/5kkhf5mSfM pic.twitter.com/JrSmLYjZph

— Fox News (@FoxNews) September 3, 2015
A journey to the unkown on the Balkan migrant route, day 2: Ghost train through Macedonia http://t.co/UKFmSLaVWx #AFP pic.twitter.com/IVnU1vVdt2

— AFP Correspondent (@AFPblogs) September 3, 2015
Macedonia migrant situation is turning catastrophic http://t.co/kGDwxZIpbU pic.twitter.com/yuRRI5mc14

— Jesseb Shiloh (@jessebshiloh) August 24, 2015
The migrant crisis in #Macedonia pic.twitter.com/D2P5Fe4QCD

— Chris Rostankovski (@Rostankovski_) August 22, 2015
Migrants delayed a Eurostar train in Calais, France, in order to enter Britain. They delayed a train for over 16 hours.
Train trip to hell: Stowaways cause 16hr nightmare on Eurostar http://t.co/HAwEH0sM0k pic.twitter.com/xk2IORGiqk

— Daily Star (@Daily_Star) September 3, 2015
A photographer captured one man cutting into a truck to sneak into the UK.
Migrant slices through ROOF of lorry in Calais to get into UK http://t.co/xiGBHERCAn pic.twitter.com/4PYujkCxrD

— Daily Mirror (@DailyMirror) September 3, 2015