Authorities in Turkey arrested Dutch journalist Fréderike Geerdink for the second time this year, allegedly to shield her from the dangers of covering Kurdish-Turkish tensions. Geerdink specializes in Kurdish relations, human rights, and women's rights.
She released these tweets on September 6: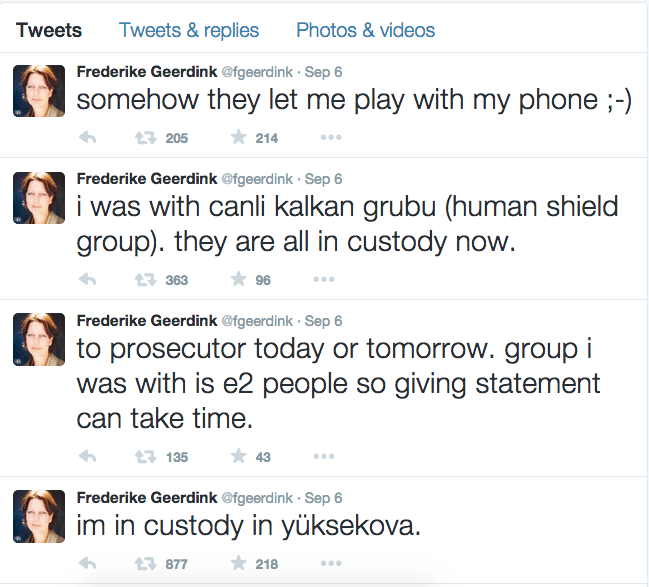 Officials did not release much information about the arrest, but an anonymous source spoke to Reuters.
"Frederike has not been arrested for journalism," the source insisted. "She was in a security zone where there was fighting. Because of that, we could not guarantee her safety, so she has been detained and investigations are continuing."
Geerdink moved to Turkey in 2006 and established her roots in Diyarbakır, "the heart of Kurdish Turkey," in 2012. That is where authorities arrested her in January due to alleged "terrorist propaganda." According to the indictment, the court "accuses Geerdink of posting messages on social media in favor of the outlawed Kurdistan Workers' Party (PKK), including a display of the group's flag." The indictment occurred on the same day President Recep Tayyip Erdogan "declared at a meeting of ambassadors in Ankara that 'there is no freer press in Europe or elsewhere in the world, than in Turkey.'"
Turkey received heavy international criticism when they detained two British journalists with VICE News due to alleged activity with the Islamic State (ISIS/ISIL). However, as days passed, evidence revealed the journalists actually interviewed and reported on the rift between the Turkish government and the Marxist PKK, which Turkey, the U.S., EU, and NATO have listed as a terrorist organization. Both were arrested in Diyarbakır, like Geerdink. The city is "believed to be a stronghold" for the PKK.
AFP reported both journalists returned to Britain on Monday, but Turkey-based colleague Mohammed Rasool remains in custody.
"VICE News is pleased to confirm two of our journalists, Jake Hanrahan and Philip Pendlebury, have been released from a Turkish prison and have returned to the UK," the company said in a statement. "Both are in good health and spirits, but they–and everyone else at VICE News–remain extremely concerned for our third colleague, Mohammed Ismael Rasool, who is still being held."