A Turkish doctor, Bilgin Ciftci, is looking at two years in prison for daring to suggest that President Recep Tayyip Erdogan looks like Gollum, the ruined hobbit-like character from The Lord of the Rings.
Fox News notes that a court in the Aydin province took the matter seriously enough to bring in a group of experts – "two academics, two psychologists, and one movie expert" – to testify about whether the comparison was an insult. The judge admitted he had not seen Peter Jackson's blockbuster films based on J.R.R. Tolkien's fantasy classic, which would seem to be a problem easily rectified when two years of a man's life are on the line, but instead they brought in a crew of Tolkienologists and gave them until February to "analyze Gollum."
The Fox News report does not say if any of these experts carried a set of polyhedral dice into the courtroom.
Dr. Ciftci has already been fired from his job at a hospital over the image he posted online, and was briefly detained in October. Frankly, it doesn't seem as though it should take a team of experts until February to determine if the comparison made in these photos is valid: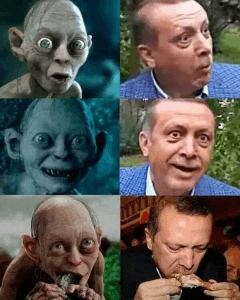 Actually, the Jerusalem Post reports that the court's challenge is not to rule on the physical resemblance between President Erdogan and the creature formerly known as Smeagol, but rather to determine if the comparison is insulting. The defendant is arguing that Gollum is a tragic figure ultimately redeemed by his fate in the story. This will be a tough sell to the jury, if the prosecution breaks out the scene where Gollum sings about the joys of eating raw fish while beating one of them to death against a rock.
This is not really funny, because it is a grim example of repression in a country whose membership in NATO could pull the Western world into a conflict with Russia, but it is virtually impossible to read any report about the case without laughing. For example, the Fox News report includes a different set of photos picturing Gollum and Erdogan, with a caption that goes out of its way to note that Gollum is the one on the left.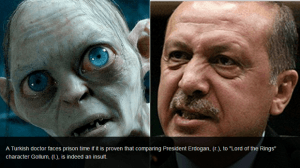 The notoriously thin-skinned president of Turkey has been giving his country's laws against insulting the President quite a workout.
Former Miss Turkey, Merve Buyuksarac, ended up in the dock for posting a satirical poem on Instagram. Two teen boys were charged with a crime for tearing down posters of Erdogan earlier this year, freed when they admitted they did not know whose posters they had vandalized. In March, police arrested a 13-year-old in the middle of class for having posted something deemed "insulting" of Erdogan on Facebook. Nor are publications immune; the magazine Nokta faced a legal probe after publishing a cartoon depicting Erdogan taking a selfie next to the coffin of a Turkish soldier.