The Islamic State (ISIS/ISIL) has begun offering marriage counseling in hopes of stopping jihadi brides from leaving the caliphate.
The terrorist group released a picture of a jihadi bride in an office waiting to receive marriage counseling. The group opened the office in Raqqa, Syria, the capital of their self-declared caliphate.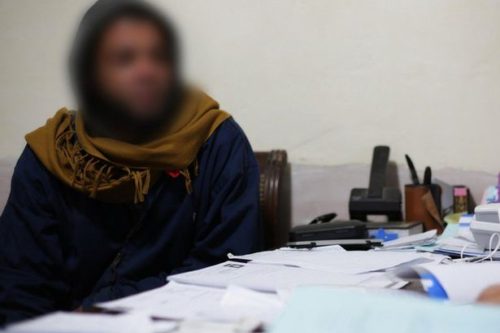 Thousands of women have left their comfortable lives in the West to marry jihadists in the Islamic State, but airstrikes and Shariah Law have forced these women to rethink their decisions.
"At least before you we had electricity [sic], we could bake and cook. Our basic needs were met," said one woman in Mosul, Iraq.
Another woman said they live in "ancient times," while yet another lamented the fact that they lack electricity and drinking water.
"Even the drinking water is contaminated. It smells bad," said a third woman.
The Islamic State opened an official marriage office in Raqqa in the summer of 2014 to help newly arrived women find jihadi husbands. Upon signing up, the women and young girls could expect a jihadi to arrive at their door and propose.
If the Islamic State interests the couple, they can honeymoon in their "caliphate," which includes parts of Syria and Iraq. The happy couple will start in Raqqa and continue to Iraq's Anbar. Activist Hadi Salameh said Chechen militant Abu Abdel Rahman al-Shishani and his new wife were one of the first clients.
Last week, Kurdish news outlets reported the Islamic State executed 250 girls and women who refused to become their sex slaves or enter temporary marriages with terrorists.
"At least 250 girls have so far been executed by IS for refusing to accept the practice of sexual jihad, and sometimes the families of the girls were also executed for rejecting to submit to IS's request," announced Said Mamuzini, the Kurdish Democratic Party spokesman.
In December 2014, Iraq's Ministry of Human Rights claimed that the Islamic State murdered 150 women because they refused to marry or engage in sexual acts with the terrorists.
"At least 150 females, including pregnant women, were executed in Fallujah by a militant named Abu Anas Al-Libi after they refused to accept jihad marriage," said the Ministry. "Many families were also forced to migrate from the province's northern town of Al-Wafa after hundreds of residents received death threats."
Eight months later, another report from Mosul surfaced that said the Islamic State killed another 19 women who refused to have sex with terrorists.
"Isis [has] executed 19 women in the city of Mosul during the past two days," declared Mamuzini. "The penalty decision came on the background of the refusal to participate in the practice of sexual jihad."
Militants claim they adhere to a very conservative interpretation of Islam, one that allows them to run brothels and keep sex slaves. They allow women from the West to perform "sexual jihad" for the terrorists. A 2013 edict allows this behavior "to boost the morale of fighters." Islamic State issued its own edict in June after conquering towns in Iraq. Jihadists set up brothels filled with kidnapped females and placed British women in charge. One Yazidi sex slave begged the West to bomb the brothel at which she was held to end her suffering. A video in November showed militants laughing and joking about buying female Yazidi slaves.