The Thanksgiving holiday has reached the thousands of U.S. troops fighting terrorist groups in the Middle East and Afghanistan, ensuring Americans at home enjoy a peaceful day next to their loved ones.
"While everyone here is proud of the job they doing to rid the world of [the Islamic State], they are no doubt missing their families during the holiday as well," U.S. Army Col. Joe Scrocca, director of public affairs for the U.S.-led coalition fighting the Islamic State (ISIS/ISIL) in Iraq and Syria, told Breitbart News. "Thankfully, teammates become like family and we are fortunate to enjoy a special meal together of turkey, ham, mashed potatoes, green beans, yams, and pie; all served by general officers and senior staff."
"The service members deployed as part of Operation Inherent Resolve, the Coalition of more than 60 nations committed to the military defeat of [ISIS], are spending Thanksgiving much like they do every day, except with perhaps a slightly fuller stomach," he added.
Operation Inherent Resolve is the official name of the mission to defeat ISIS.
On Thanksgiving Day, U.S. troops will be "supporting our partner forces on the ground in Iraq and Syria in their mission to defeat [ISIS] and set the conditions for improved regional security and stability, as well as the safety of Americans at home and abroad," explained Col. Scrocca.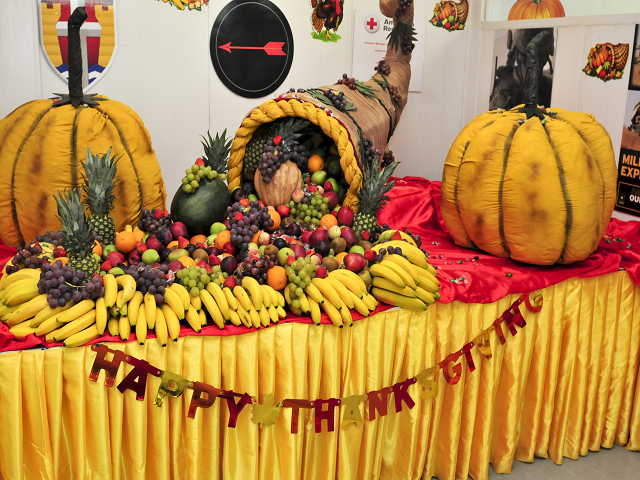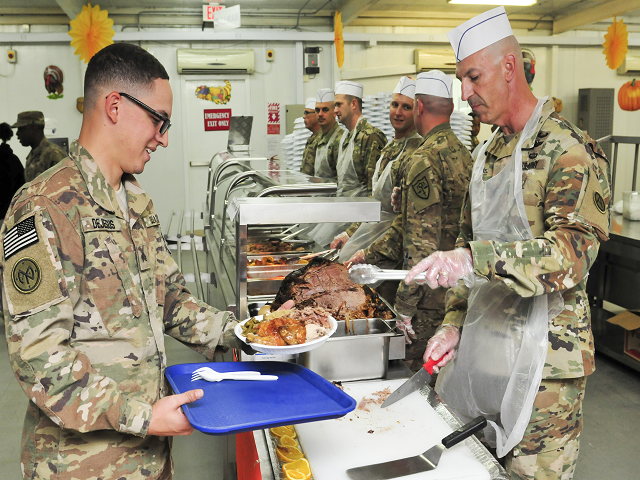 According to the Defense Logistics Agency (DLA), a Pentagon service agency tasked with ensuring U.S. troops abroad get a taste of home during the holidays, American service members deployed to Afghanistan, Iraq, Syria, Jordan and Kuwait, have received: 34,760 pounds of turkey; 32,550 pounds of beef; 21,450 pounds of ham; 28,980 pounds of shrimp; 9,114 pounds of stuffing mix; and 879 gallons of eggnog.
Of the nearly 35,000 pounds of Turkey, about 15,000 has been delivered to U.S. troops in Afghanistan alone.
"It will be business as usual at Resolute Support on Thanksgiving Day but troops look forward to a Thanksgiving meal with turkey, mashed potatoes, gravy, and at least a few of the trimmings," U.S. Navy Capt. Bill Salvin, director of public affairs for Resolute Support headquarters in the Afghan capital of Kabul, told Breitbart News. "Of course, with the 9 1/2 hour time difference between Afghanistan and the Eastern U.S., the football will have to wait until Thursday night."
Resolute Support refers to the NATO mission in Afghanistan.
U.S. Army Warrant Officer Raul Lewis, a food service officer, is charged with organizing food support for American forces in Afghanistan, reveals DLA.
"It is an honor to serve my country. But it is an even greater honor to serve my fellow service members an outstanding meal," declared Lewis. "There is nothing more comforting when you are far away from home and missing your loved ones than to sit in front of a hot meal and share a few laughs and moments of joy."
In Afghanistan, U.S. forces are primarily fighting ISIS, the Taliban, and al-Qaeda.
Besides the decorations, one of the differences between everyday meals and those served on the holiday is that command leadership serves the troops rather than contractors.
"Amazingly, in some unexplained warzone phenomenon, the taste of food served by senior officers improves proportionally to the rank of the officer serving it," Col. Joe Scrocca from the U.S.-led coalition told Breitbart News.
There are nearly 5,000 U.S. troops to deployed to the war zone in Iraq; 300 in Syria; and 10,000 in Afghanistan.
Those forces are backed by U.S. troops based in Turkey, Jordan, Kuwait and elsewhere in the region, reports the Department of Defense (DoD) media arm DoD News.
"While the vast majority of Americans will be sitting down with family for a fall feast, hundreds of thousands of U.S. service members will be on guard around the world, ensuring their fellow citizens enjoy a day of peace," adds DoD News. "For them, it is another duty day."
Currently, there are nearly 1.3 million U.S. forces on active duty in the military and another 800,000 in the reserve components.
"They are supported by about 750,000 DoD civilians and thousands of DoD contractors," notes the Pentagon's media arm.
"Today, there are around 275,000 forward-deployed U.S. service members. They serve in more than 100 countries and on every continent," it adds.
U.S. forces are also fighting terrorism in Africa, namely the ISIS branch based in Nigeria, Boko Haram.