The communist government of Cuba arrested nearly 500 people for political reasons in January, most members of peaceful dissident movements attempting to practice their religion or silently expressing dissent with the Castro regime.
The Cuban Commission for Human Rights and National Reconciliation (CCDHRN), an NGO that tracks politically motivated arrests on the island, published its monthly report this week. The report notes that the number of documented arrests, 478, pales in comparison to the number in January 2016: 1414, a number exacerbated by President Barack Obama's "normalization" process with Havana. Political arrests on the island peaked in March 2016, the month President Obama visited Havana, at 1416 individual arrests.
The Obama era has seen the number of politically motivated arrests skyrocket, with nearly 10,000 such detentions in 2016, compared to slightly more than 2,000 in 2010. The regime of Raúl Castro has shifted its tactics from sentencing political dissidents to extended prison sentences to detaining them in the short term and releasing them repeatedly, thus thwarting human rights NGOs compiling lists of prisoners of conscience: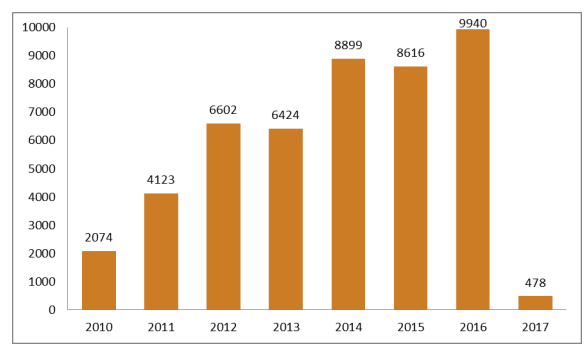 The list of arrests the CCDHRN compiled features most of the usual suspects. Berta Soler, the head of the Ladies in White movement, for example, was arrested five times in January, on each occasion for attempting to attend Catholic Mass on Sundays. The Ladies in White group – whose members are the mothers, daughters, sisters, and wives of political prisoners – are disproportionately represented in the list, as are the members of other dissident groups like the United Anti-Totalitarian Forum and the Patriotic Union of Cuba (UNPACU).
January features three holidays of particular danger for political dissidents in Cuba: the anniversary of the Cuban Revolution (January 1), the Catholic Feast of Epiphany (Three Kings' Day – January 6), and the birthday of Cuban founding father José Martí.
The government beat and arrested dozens on the anniversary of the Revolution. At least eight Ladies in White members were arrested for collecting toys and attempting to distribute them on Epiphany. Other dissidents were arrested under suspicion of seeking to attend festivities for José Martí, which the government replaced with acts honoring dictator Fidel Castro following his death this year.
Other dissidents were detained and harassed on less concrete terms: One dissident was arrested "after being found fishing, was then beaten and deprived of liberty." A member of the United Anti-Totalitarian Forum was arrested "for two hours while traveling to the market to buy rice." Others were arrested "under suspicion of planning to attend Mass."
CCDHRN notes that Cuba still keeps more than one hundred prisoners of conscience, in addition to those regularly arrested, beaten, and released. These, the NGO states, are "used for semi-slave labor in various for-profit jobs." About half of those serving sentences are members of UNPACU.
The Cuban government did commit one positive act against dissidents in January: release Danilo Maldonado, an artist known as "El Sexto" who was arrested in November for celebrating the death of Fidel Castro in public. Maldonado is currently in Miami on a media tour to describe the torture he endured in prison. Cuban communist authorities have not exhibited the same mercy towards Eduardo Cardet, the head of the Christian Liberation Movement (MCL), arrested the same week as Maldonado. While initial reports claimed
Cuban communist authorities have not exhibited the same mercy towards Eduardo Cardet, the head of the Christian Liberation Movement (MCL), arrested the same week as Maldonado. While initial reports claimed Cardet had expressed joy at Castro's death in public, his family has denied that claim, stating, instead, that he was beaten and hauled away in front of his two young children.
Despite the change in the U.S. government, dictator Raúl Castro has publicly insisted that he would not negotiate with President Donald Trump's administration to improve his nation's human rights record. "No one can expect that Cuba make concessions inherent to its sovereignty and independence," Castro said last month, claiming that Trump's repeated calls for improved human rights standards in Cuba were a threat to his rule.
The White House has confirmed it is currently conducting a "full review of all U.S. policies towards Cuba," which changed to favor the Castro regime significantly during the Obama years. Trump repeatedly stated as both candidate and President-elect that he would not negotiate with the Castro regime without ensuring greater freedoms for the Cuban people.