Northern Atlantic Treaty Organization (NATO) Secretary General Jens Stoltenberg said on Wednesday that NATO will increase spending to move toward the organization's requirement that member nations pay 2 percent of their Gross Domestic Product (GDP) to support security and military operations.
The increase, according to Reuters, is "partly aimed at showing the United States they are committed to shouldering more costs."
During his trip abroad in spring, President Donald Trump pushed members of the NATO alliance to start paying their fair share of the cost to keep the alliance solvent and effective.
"NATO members must finally contribute their fair share and meet their financial obligations," Trump said, pointing out that 22 of 28 members were still not paying enough money for their national defense.
"This is not fair to the people and taxpayers of the United States," Trump said.
"This year's 4.3 percent increase represents the fastest growth since more than a decade of cuts ended in 2014, Reuters reported. "Spending growth was 1.8 percent in 2015 and 3.3 percent last year, although it was unclear how near that takes members to the target."
Stoltenberg said the increase in spending is NATO showing the U.S. it has reliable allies in the fight against common enemies.
"We have really shifted gears, the trend is up and we intend to keep it up," Stoltenberg said and Newsweek reported. "It's more about high-end forces, heavier forces and more ready forces, meaning we need forces that are fully equipped, fully manned and fully trained."
A report on NATO spending released on Thursday shows that only 6 of the 28 NATO countries are spending 2 percent or more of GDP. Aside from the United States, which pays about 3.6 percent of its GDP to support the alliance. Those nations are Greece, Estonia, the United Kingdom, Romania, and Poland.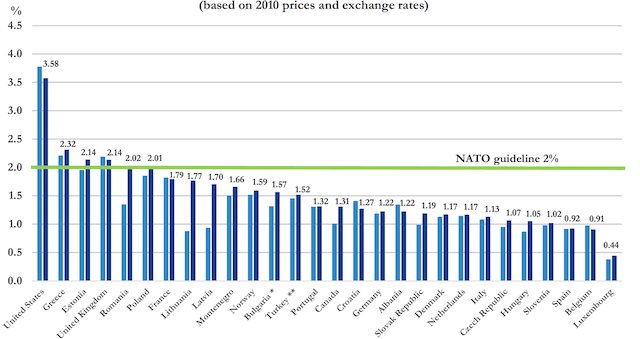 "According to NATO's top diplomat, Romania, Latvia and Lithuania are expected to join the list by next year," Newsweek reported. "Eastern allies have been among the most alarmed by Russia and its own military reinforcement.
"The three Baltics, Lithuania, Latvia and Estonia, as well as Poland, are also the biggest benefactors of NATO's updated posture on its eastern flank, deploying four multi-national battalions between them," Newsweek reported. "Alongside Norway, they are NATO's sole allies bordering Russia."