On Sunday, Venezuela's opposition marked one hundred days since a series of daily protests against the socialist government, triggered by the Supreme Court's aborted attempt to replace the National Assembly and install itself as the national legislative body.
During those hundred days, beginning in late March, over one hundred people have died and an untold number of others arrested for peacefully assembling against the government. According to the Venezuelan outlet Runrun.es, 108 people ranging in age from 14 to 54 have been killed since the latest wave of protests began, mostly students in their late teens and early 20s. The government has not prosecuted anyone over these deaths in nearly 90 percent of cases.
Protesters have largely remained peaceful as dictator Nicolás Maduro ordered the nation's Bolivarian National Guard (GNB) to attack civilians with tear gas and rubber bullets and, in some cases, run civilians over with armored tanks. Opposition leaders in the National Assembly are demanding the liberation of all political prisoners, free and fair elections, and the full restoration of the democratic order. In response, Maduro has created a parallel legislature tasked with drafting a new constitution that would greatly expand his powers.
In what appeared to some an attempt to preempt hundred-day protests on Sunday, the government transferred the nation's most prominent political prisoner, Leopoldo López, to house arrest on Saturday, citing health concerns. López, the head of the opposition party Popular Will, was sentenced to nearly 14 years in prison in 2015 for organizing peaceful protests; his wife, Lilian Tintori, says he was tortured shortly before his release and has lost some of his eyesight.
Tintori's overnight vigils in front of Ramo Verde prison, where López was being held, became a regular feature of the protests against the government.
López's release did not deter protesters on Sunday, including his wife, Tintori, and the heads of Popular Will. The Popular Will party released a statement attributing López's release to both international pressure and the persistence of these daily protests. Thousands congregated in Caracas Sunday to observe the hundredth day of protest.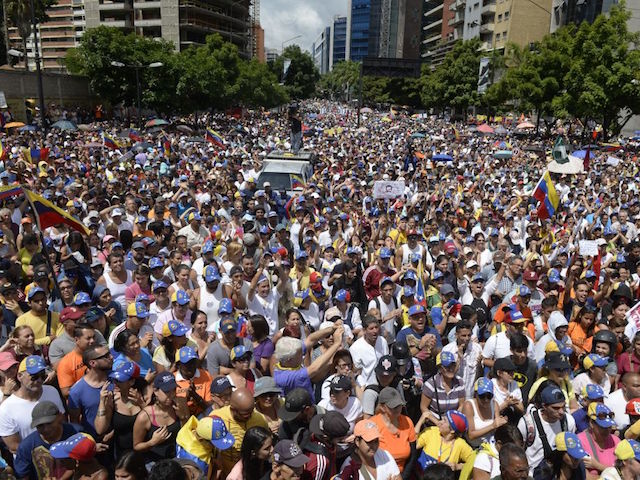 The protests organized since March have featured extreme violence on the part of the GNB towards Venezuelan civilians. In response, Venezuelans have come up with innovative and fearless acts of defiance, including standing in front of armored tanks known to have run civilians over. The protesters have also overrun the Supreme Court, whose actions against the legislature triggered the protests.