WASHINGTON, DC – A large group of Kurdish protesters carrying Kurdish and American flags rallied in front of the White House on Monday to seek President Donald Trump's help in stopping Iranian-backed Shi'ite militia attacks on Kurds with weapons that they claim are funneled through the Iraqi government.
Khunav Barzani, a Kurd who is now a permanent resident in the United States, told Breitbart News that the weapons given to the Iraqi government for the fight against the Islamic State are now threatening the large Kurdish population in that country.
"Unfortunately, the Iraqi government turned over [the weapons] to the Shi'ite militia to use against my people and against Peshmerga," Barzani said, referring to the Kurdistan security force.
"Please we need your help," Barzani said. "Please, our Peshmerga needs your support."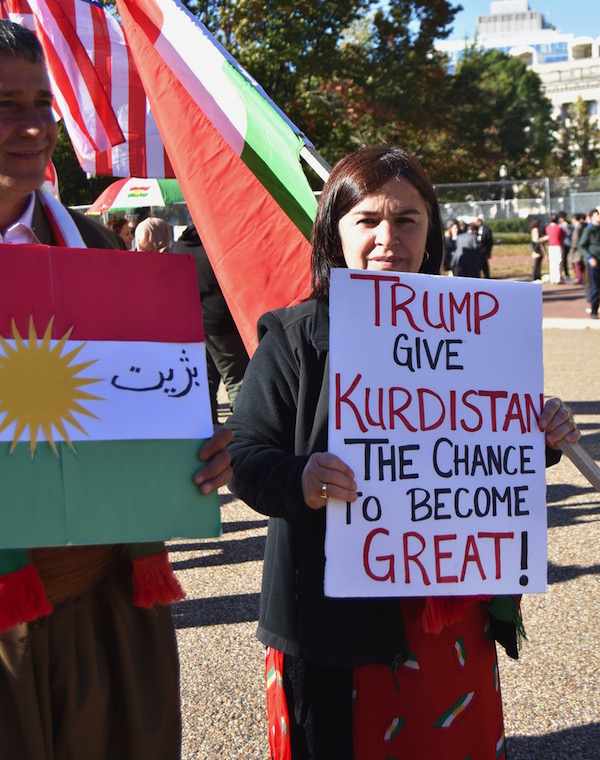 Barzani and other protestors said the Kurdish region was a safe haven for U.S. troops in Iraq to beat back ISIS and during other deployments, but now U.S. officials have seemingly abandoned the people they fought shoulder-to-shoulder with against radical Islamic terrorism.
"Please don't be silent," Barzani said. "Your silence is making our enemies … stronger."
Protest organizers said the militias have displaced more than 150,000 civilians from the disputed areas and destroyed hundreds of civilian houses in Tuz Khurmatu city, south of Kirkuk.
Reports in October revealed that Major General Qasem Soleimani, the commander of the ruthless Quds Force division of Iran's Islamic Revolutionary Guard Corps (IRGC), had been seen in Iraq advising Shiite militias in their attack on the Kurdish Peshmerga.
In September, a majority of Iraqi Kurdistan's population voted in favor of making the Kurdish region an independent country — a move opposed by some neighboring countries, including Syria, fearing that it will fuel separatism among the Kurdish population within its borders.
And the United States went on the record to say it would not recognize an independent Kurdistan.
"The United States does not recognize the Kurdistan Regional Government's unilateral referendum held on Monday. The vote and the results lack legitimacy and we continue to support a united, federal, democratic and prosperous Iraq," Secretary of State Rex Tillerson wrote in a press release.
Kadir Abbulhadi, a Kurd and now U.S. citizen who attended the protest and who also worked with the U.S. Army, said the militia attacking Kurds are the same forces that also have killed U.S. troops during their deployment in Iraq.
"They are terrorists," Abbulhadi told Breitbart News.