Despite widespread conservative outrage over Rep. Spencer Bachus' (R-AL) attack on Sarah Palin and the Tea Party movement, and despite Bachus' long history of support for bigger government, GOP Congressional leaders — in their FIRST action since the election — appear ready to betray the Tea Party movement by handing Bachus chairmanship of the House Financial Services Committee.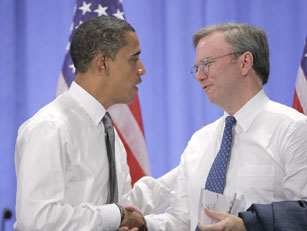 As was reported in this space just a couple of days ago, Bachus — who is in a battle for the chairmanship of the House Financial Services Committee with Rep. Ed Royce (R-CA) — told the South Shelby (Ala.) Chamber of Commerce that former Alaska Governor Sarah Palin and the Tea Party movement cost the Republican Party control of the U.S. Senate. "The Senate would be Republican today except for states (in which Gov. Palin endorsed candidates) like Christine O'Donnell in Delaware," Bachus said. "Sarah Palin cost us control of the Senate." He went on to say that Tea Party candidates did well in U.S. House races, but in the U.S. Senate races, "they didn't do well at all."
While Sen. James Inhofe (R-OK) spoke out against Bachus' statements, most business-as-usual GOP Congressional leaders remained silent on the issue. That left Sarah Palin to defend herself from Bachus' attacks. She strongly refuted Bachus' claims and then cited Bachus' lengthy record of support for big government — which consists largely of support for government programs like TARP and "Cash for Clunkers," various schemes to block Americans from accessing online poker websites, and any other big government plans that come down the pike — aptly calling it the "Bachus bigger government agenda."
Sadly, the me-too establishment Republican Congressional leaders appear ready to embrace the Bachus bigger government agenda over Ed Royce's principled stands for less government. Royce, who cast votes in opposition to TARP and "Cash for Clunkers," would appear to be the natural choice of the two to head a committee so important to the aims of those who voted for Republican candidates this year. Too bad GOP leadership seems to think this election win meant there would be more business as usual, because it does not. One would have at least expected them to let the ink dry on the election returns before betraying the movement.
The 1994 Republican Revolution failed because voters failed to hold lawmakers accountable for their promises. We have been there and done that, and we will not repeat that mistake. This time, conservatives demand action from lawmakers. Republican lawmakers can no longer simply talk the talk on the campaign trail. They now have to walk the walk on Capitol Hill.
Republican politicians must choose. Are they with the voters or are they with the party establishment? Hugh Hewitt describes this as House Speaker-in-waiting John Boehner's first big test. This is an easy test. Let's hope Rep. Boehner passes.