If you want to take a pulse on the political vibe in this country, one need only look at Wisconsin. The state has become the barometer for judging not just the public's appetite for political battle, but the competitive landscape as well. The spotlight on anything that has six degrees of separation from a Koch brother has been great drama for Wisconsin's ongoing soap opera, but audiences in the state and nationwide might get a better show by turning their attention leftward. Few have examined the strange pattern of money and favor trading that's been pervading Wisconsin's beloved circle of progressive politics.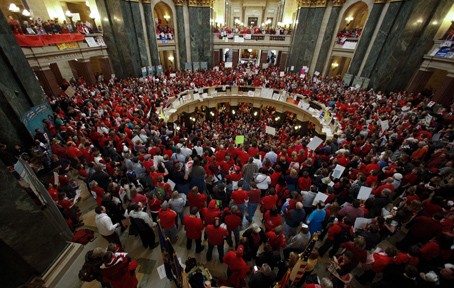 The activity in Wisconsin over the last few months becomes crucially pertinent as the state gears up for the 2012 Wisconsin Senate race. It's worth looking at the financial innards of the Supreme Court race and the protests against Governor Scott Walker in order to assess what the fight for the Wisconsin Senate seat, soon to be vacated by retiring Democratic Senator Herb Kohl, will look like. What many don't realize is that this race could have broader implications – not just in national politics, but in specific policy areas, like health care and your personal medical records, for example. Lots of money, fueled by liberal business interests and an ever-growing progressive movement in Wisconsin, has already been freely flowing.
But is anyone watching? Who are some of these donors?
Let's start by looking back at the recent Wisconsin protests and the Supreme Court election, and then dissecting some of the money trail.
The hostility stemmed from the union reform bill signed by Wisconsin Governor Scott Walker on March 11th as a stand-alone portion of the overall budget repair bill.
Preceding this were weeks of relentless organized labor protests, many of which included acts of thuggery and even death threats against Republican lawmakers. But the measure was promptly challenged by Democratic officials and restraining ordered away into legal-limbo land until June 6th. Expecting that the challenge may ultimately be decided by the state Supreme Court, Democratic supporters promised an ugly fight for that Supreme Court Justice seat.
And ugly it got. Not only did the Wisconsin judicial election between conservative incumbent Justice David Prosser and liberal Assistant Attorney General JoAnne Kloppenburg turn into an unprecedented sleaze fest, but spending levels also broke records. Topping that list of sleaze funders was a non-profit group called the Greater Wisconsin Committee – a medley of labor unions, the Democratic Party, a few powerful liberal business elites, and even the offspring of George Soros.

[youtube sWif64wiTjY]
At the top of mind for most Wisconsin residents was this controversial anti-Prosser TV ad, sponsored by the Greater Wisconsin Committee.
Politifact Wisconsin thoroughly examined each of the claims made in the ad and rated the ad to be "barely true".

The Greater Wisconsin Committee claims David Prosser didn't ask police to investigate a mother's report that a 30-year pedophile priest had indecently touched her two sons, then refused to file charges [against] him and participated in a cover-up of the priest's acts.

The committee's TV ad uses generally factual statements to make its case, but ignores critical facts that would give a different impression. By using information that only became known later, it suggests more information was available to Prosser at the time than really was. For instance, Prosser didn't know that the priest had a long history of molestation — that came out 24 years later. And it wasn't until 24 years later that one of the brothers made the most serious allegation against the priest.
The ad was so offensive to some that even one of the priest's victims spoke out against it to ABC news in WI:

"In an email obtained by 12 News on Thursday, one of the victims in case, Troy Merryfield, wrote that he finds the ad offensive, inaccurate and out of context and said he hopes the organization will remove the ad."
Offensive or not, the strategy of sleaze appeared to have worked. All that money flowing in, especially from one group in particular, made an impact.
From the Wall Street Journal:

Tuesday's race between Justice David Prosser and liberal challenger JoAnne Kloppenburg was a dead heat, with Ms. Kloppenburg pulling ahead by about 204 votes late yesterday. Until Mr. Walker's collective bargaining reform passed last month, incumbent Justice Prosser was a heavy favorite. Unions then turned it into a grudge match, with the union-backed Greater Wisconsin Committee alone spending $1,363,040 for Ms. Kloppenburg, according to the Brennan Center for Justice. Turnout of 1.5 million was nearly double the usual number of voters in a state Supreme Court election.
So, who is this Greater Wisconsin Committee?
Established in 2004 as a 501(c)4, , the organization describes itself as "a state-based, progressive issue advocacy organization that conducts aggressive grassroots and media campaigns on the important public policy issues facing the state." The Greater Wisconsin Political Fund is its affiliated 527 organization.
According to the Center for Responsive Politics, the Greater Wisconsin Committee's 2010 funders include:

AFSCME: $915,000

SEIU: $185,000

Judith R & Gordon T Faulkner, Epic Systems (CEO, Judith Faulkner): $60,000

Lynde Uihlein of Brico Fund/Time Out Enterprises (Schlitz Brewing heir): $275,000

Grant Abert (co-founder of the Donor Collaborative of Wisconsin, Wisconsin Community Fund): $30,000

Jonathan Soros, Soros Fund Management: $5,000

Democratic Legislative Campaign Committee and Democratic Governor's Association: $1,580,000

Greater Wisconsin Committee: $300,000
The special interest spending building up to this year's Supreme Court race rivaled that of Wisconsin's active 2008 race, when conservative-leaning Judge Michael Gableman defeated incumbent Justice Louis Butler by just 2% of the vote. When the state's leading pro-business lobby Wisconsin Manufacturers & Commerce (WMC) spent $1.2 million on that race, it sparked outrage amongst liberal Democrats and the media. So much so that Greater Wisconsin Committee member Judy Faulkner, founder and CEO of health information technology company Epic Systems, called for a boycott of WMC in protest, prompting the resignation of WMC board member and J.P. Cullen & Sons CEO, David Cullen. (Cullen's company was also Faulkner's building contractor working on the $300 million expansion of Epic Systems Verona campus at that time).
It turns out that Judy Faulkner is also important outside of Wisconsin. She was appointed to the federal Government Accountability Office Health IT Policy Committee in April 2009. This is a committee that was created in the American Recovery and Reinvestment Act (ARRA) for the purpose of "mak[ing] recommendations on creating a policy framework for the development and adoption of a nationwide health information technology infrastructure, including standards for the exchange of patient medical information." Electronic Medical Records (EMR) / Electronic Health Records (EHR) – long considered by the left to be the holy grail to a single payer system – are a key financial component of both the ARRA and the Patient Protection and Affordable Care Act. Faulkner's company, Epic Systems, is the same software that is installed at many of the facilities often cited by President Obama and members of Congress as the "model health care systems," including Geisinger, Kaiser Permanente and Cleveland Clinic, to name just a few.
Epic Systems and the Faulkners are also donors to many liberal and Democratic candidates, including some who have been cited as potential 2012 Wisconsin Senate candidates, such as Rep. Tammy Baldwin. Epic Systems came up recently when five members of a congressional delegation, including Tammy Baldwin, sent a letter to the Departments of Defense and Veterans Affairs, asking them to consider using a commercial off the shelf system for their electronic health records solution. The letter cited Kaiser Permanente, Cedars Sinai and Cleveland Clinic as model examples – all Epic Systems installations.
This year, Greater Wisconsin Committee spent over $1.3 million on just the Supreme Court race. The remaining top four donor groups spent under $1 million each, two of those under $500K. That seems quite a reversal from the same "principled" stance of these same liberal voices in 2008.
So, why has one organization – the Greater Wisconsin Committee – had so much financial pull in Wisconsin? And just as importantly, why are just a few individuals and companies in particular, like Judy Faulkner and Epic Systems, so closely aligned with the labor unions and Democratic party machine? Wisconsin is having a nationwide impact on politics in our country today. It's just as likely that the people shaping Wisconsin's politics may have a nationwide impact as well. Just look at Judy Faulkner and Epic Systems – who knows? Wisconsin could even decide who manages your personal medical records.
As the 2012 Wisconsin Senate Race shapes up, perhaps it might be time to watch what the left is doing while they're crying foul over Koch money.